Chris Evans Thinks Robert Downey Jr. Will Leave Marvel Before He Does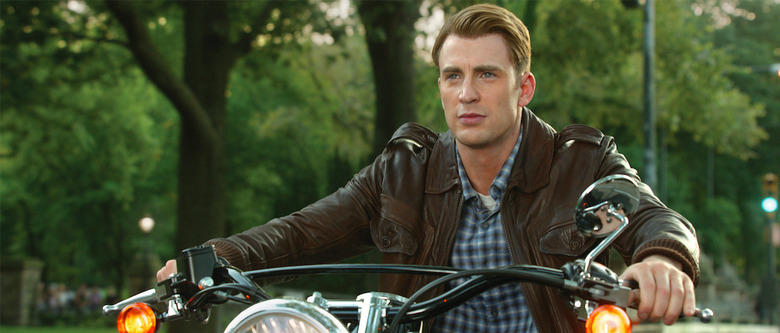 After the fourth Avengers film, Chris Evans' contract with Marvel is done. Whether it'll be the last we see of the actor as Captain America, we'll have to wait and see. Over a year ago, when asked about starring in more movie Marvel films, Evans said, "If Marvel wants me they got me," but it's worth noting Marvel President Kevin Feige has teased these upcoming Avengers films as a new beginning of sorts.
While promoting his new film, Marc Webb's Gifted, Evans talked about having to one day say goodbye to playing Steve Rogers. Below, check out his most recent comments on walking away at some point.
When the day comes to recast Captain America, it probably won't be easy. Evans has embodied Steve Rogers since the very beginning of Captain America: The First Avenger. Whether he's engaged in some top-notch shield action or thinking about the dance he didn't get, he's always compelling to watch as the hero.
Evans still has plenty of time playing the character, considering how long the Infinity War shoot is, but he's already talking about one day having to pass the torch (Source: USA Today):
I'd be lying if I said it wouldn't be hard for me. But the passing of time and the passing of torches is part of the experience. Nothing lasts forever. There's a beauty in that departure, even if it can be sad at times. It's also joyful.
No matter what happens with Captain America after Avengers 4, Evans will understandably be happy about having starred in some good quality, monster hit films:
I've had a great run. Superheroes are reinventable entities, like Batman or even James Bond. These movies find new incarnations and new ways to tell the story. I am all for it. However they want to proceed after Avengers 4, it's really up to them. I walk away with no regrets and endlessly thankful.
Another actor who's maybe not too far from finishing his time in the MCU? Robert Downey Jr. His contract also runs out after the next Avengers films. Evans commented on him leaving one day, too:
Downey is far closer to reaching that point where he may walk away. And I don't know how you replace Downey as Tony Stark. I don't know who else can touch that.
There's been some talk of Downey Jr. making an Iron Man 4, but when it comes to replacing him, Feige has mentioned going the James Bond route. It's not that difficult imagining these roles, Iron Man and Captain America, being played by other actors. There are plenty of other great actors in the world, ones that could give us new takes that don't live under Downey Jr. or Evans' shadows. Those are going to be some big shadows to have to get out of, though.