Michael Keaton In Talks To Play Villain In Tim Burton's 'Dumbo'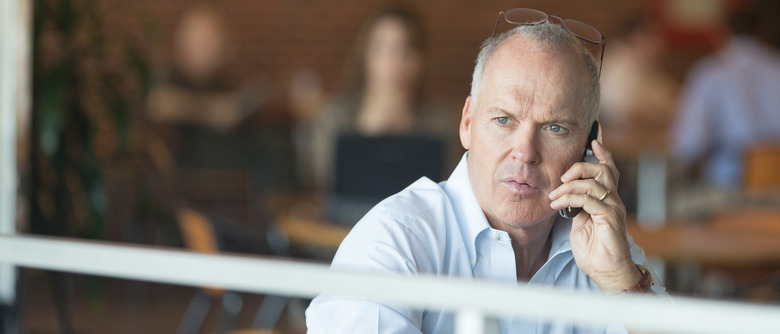 You either win an Oscar for playing a hero, or you live long enough to see yourself play the villain.
That seems to be Michael Keaton's career trajectory at least, potentially following up his villainous turn as Vulture in the upcoming Spider-Man: Homecoming with a role as the villain in Tim Burton's live-action remake of Disney's Dumbo.
Keaton is in negotiations with Disney to play the villain Vandemere, who takes over the circus and exploits the lovable elephant Dumbo and his mother, according to Variety.
If a deal lands Michael Keaton in Dumbo, he would join the ever-growing cast of frequent Burton collaborators like Danny DeVito and Eva Green, and potentially Colin Farrell, who is in talks to take one of the lead roles, a widowed father of two kids from Kentucky who befriend Dumbo. Devito plays the original owner from who Keaton's villain acquires the circus, while Green plays a French trapeze artist named Colette.
If Keaton signs on, it would be his fourth time working with Burton, who directed him in Beetlejuice, Batman and Batman Returns. The two haven't worked together since 1992's Batman Returns, but have been looking for another project over which to reunite, including talks over a Beetlejuice sequel.
The original Dumbo followed the titular elephant who gets ostracized due to his big ears and becomes an outcast after a circus stunt goes wrong. There's not many plot details on how the live-action Dumbo will turn out, but I'm guessing with the high-profile actors taking on the human roles, the focus on humans versus animals may be even out. This would be a good call — despite the technological marvel that was the live-action and CGI blend that was The Jungle Book, I don't think the motion capture technology is quite there yet to center a story around CGI animals. This is an obstacle that the all-CGI The Lion King will have to conquer, but for Dumbo, an equal balance between CGI and human actors seems like the best bet.
Beauty and the Beast recently topped the box office with its own motion-capture lead played by Dan Stevens, so the anti-technology person in me may just be wrong (I also am a grumpy old advocate of hand-drawn animation). Whatever the case, it will be intriguing to see how much more Dumbo can traumatize us with the added CGI technology and talents of Keaton, Devito, Green and Farrell.
Tim Burton will be working from a script by Transformers sequels writer Ehren Kruger with TRON Legacy producer Justin Springer on board. Dumbo doesn't have a release date yet, but production is expected to start sometime later this year.