Tobey Maguire Will Make His Directorial Debut With Jo Nesbo's 'Blood On Snow'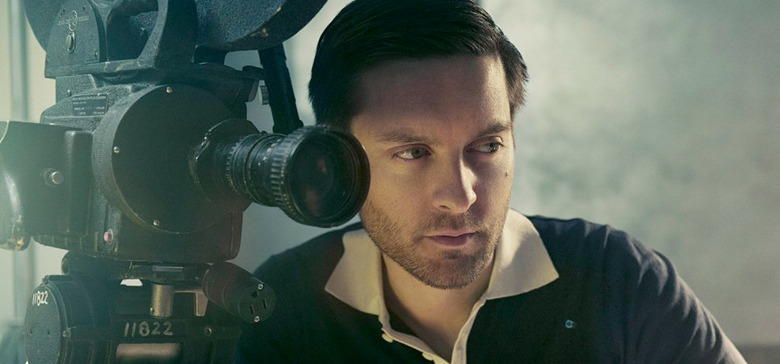 Over the years, producer Tobey Maguire has been busy. He's produced The Fifth Wave, Z for Zachariariah, Pawn Sacrifice, and Rock of Ages. In the eight years since Brothers, he's produced more than acted, although he did very recently provide his voice for the #1 movie in America, Boss Baby. He doesn't have any acting gigs coming up that we know of, but he is now gearing up to direct an adaptation of Jo Nesbo's (a pseudonym) Norwegian novel, "Blood on Snow."
Below, learn more about the Tobey Maguire directing debut.
Maguire's production banner, Material, and Lawrence Grey's Grey Matter Productions picked up the rights to Nesbo's bestselling book in 2015, according to The Hollywood Reporter. Nesbo is writing the adaptation for Maguire.
The story follows an Oslo hitman who falls in love with his boss' wife, who he's ordered to assassinate. Nesbo, whose real name is Tom Johansson (The Snowman), also wrote a sequel, called "More Blood On The Water."
Here's the synopsis for his Blood on Snow:
From the internationally acclaimed author of the Harry Hole novels—a fast, tight, darkly lyrical stand-alone novel that has at its center the perfectly sympathetic antihero: an Oslo contract killer who draws us into an unexpected meditation on death and love.
This is the story of Olav: an extremely talented "fixer" for one of Oslo's most powerful crime bosses. But Olav is also an unusually complicated fixer. He has a capacity for love that is as far-reaching as is his gift for murder. He is our straightforward, calm-in-the-face-of-crisis narrator with a storyteller's hypnotic knack for fantasy. He has an "innate talent for subordination" but running through his veins is a "virus" born of the power over life and death. And while his latest job puts him at the pinnacle of his trade, it may be mutating into his greatest mistake. . .
Maguire isn't the first actor/producer to get involved with Blood on the Snow. Back in 2013, his pal Leonardo DiCaprio was going to produce and possibly star in an adaptation set up at Warner Bros. DiCaprio and his production company, Appian Way, were working on the project before the novel was even published. DiCaprio eventually split from Blood on Snow, leaving it available for Maguire. There's no word if the Brothers star is considering acting in the film in addition to directing, but if he did, it would be his first starring role since 2014's Pawn Sacrifice.