Cute Overload: Newborn Golden Monkey Experiences Snow For The First Time In 'Born In China' Clip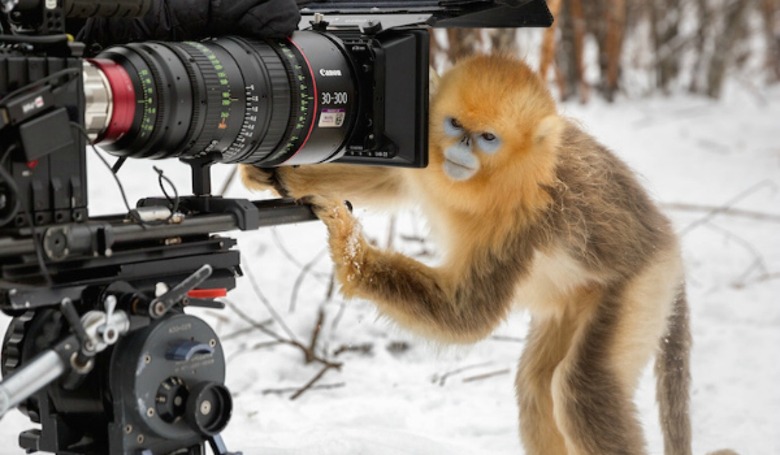 Disneynature's movies are underrated, and we don't see enough movie blogs talking about these animal documentaries. For those of you who don't know, Disney has been continuing the legacy that Walt Disney began by releasing new nature documentaries on a yearly basis to coincide with Earth Day.
Their latest documentary is a Chinese co-production, proving that kind of international collaboration is not limited to big brainless blockbusters. Born In China captures "intimate moments with a panda bear and her growing cub, a young golden monkey who feels displaced by his baby sister, and a mother snow leopard struggling to raise her two cubs." Disney has given us an exclusive clip from the film from the golden monkey storyline from the movie, showing the first time Tao Tao's newborn sister encounters the snow, which is too cute for words.
Hit the jump to see how Tao Tao's sister deals with the snow.
Born In China Clip: Tao Tao's Sister in the Snow
I've always been very interested in how these Disneynature films are made and later this week we will bring you an interview with one of the producers where we explore this in depth.
The official synopsis follows below:
Disneynature, in its ongoing quest to bring the natural world to the big screen as never before, presents its most ambitious project to date, taking moviegoers on a grand journey into the wilds of China. "Born In China" follows the adventures of three animal families — the majestic panda, the savvy golden monkey and the elusive snow leopard. Featuring stunning imagery, the film navigates the vast terrain—from the frigid mountains to the heart of the bamboo forest—on the wings of a red-crowned crane, showcasing remarkably intimate family moments captured on film for the first time ever.
If you see Born in China during opening week, Disneynature will make a donation in your honor to World Wildlife Fund to benefit wild pandas and snow leopards in China. Born in China hits theaters on Earth Day 2017.