Star Wars Bits: 'Rogue One' Cameos, Undiscovered Easter Eggs, And Plenty More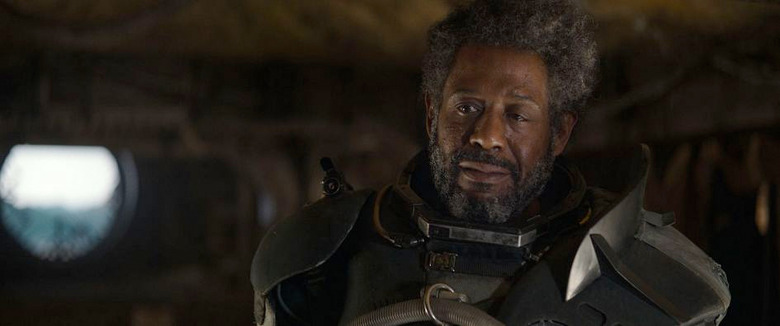 In this edition of Star Wars Bits:
Mads Mikkelsen talks about Galen Erso's fate.
Learn more about Saw Gerrera's origins.
Screenwriter Gary Whitta reveals the cameo he didn't like.
How J.J. Abrams was responsible for Admiral Ackbar not making the cut.
Director Gareth Edwards says there are "loads" of easter eggs yet to be discovered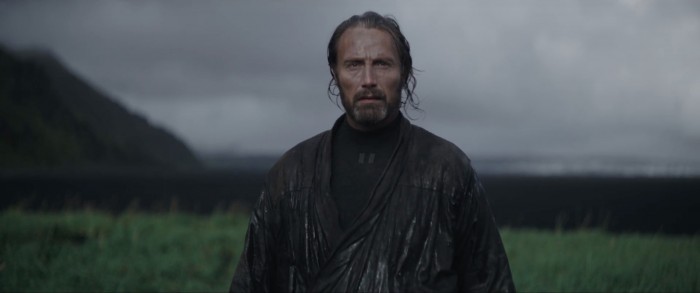 Mads Mikkelsen, who played Death Star engineer Galen Erso in the film, sounds downright giddy when talking about his death scene. You can read his full quote over at io9, but he called it "fantastic," "wonderful," and "iconic." Not sure I can back him up on that last one (it's not like he was sliced in half by Darth Vader or something), but those other adjectives are apt.
Discover the origins of Saw Gerrera in this bonus feature clip from #RogueOne. Available now on Digital HD and coming to Blu-ray April 4. pic.twitter.com/eZXaPBX48T

— Star Wars | Andor Premieres Sept 21 on Disney+ (@starwars) March 26, 2017
The official Star Wars Twitter account tweeted a video revealing the origins of Forest Whitaker's insurgent rebel Saw Gerrera. Check it out: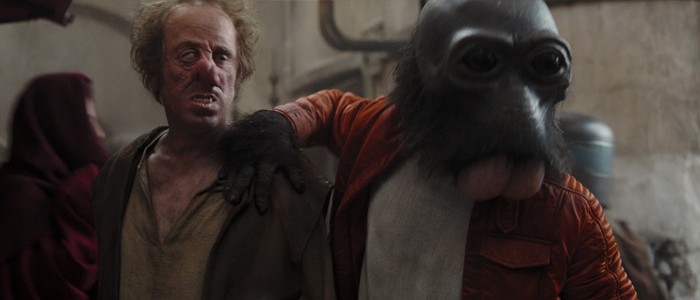 It's rare to hear anyone involved with a big movie like Rogue One criticize any decision about making it, but that's exactly what original screenwriter Gary Whitta did when he gave EW his honest opinion about a couple of cameos that made the final cut:
"I thought having Evazan and Walrus Man was a little too much. You have to reign in that instinct to go back and put things in just because you loved them when you were a kid."
I found those cameos to be distracting, so I'm right there with him on this one. Gotta give him props for speaking out when most people would just keep their mouths shut.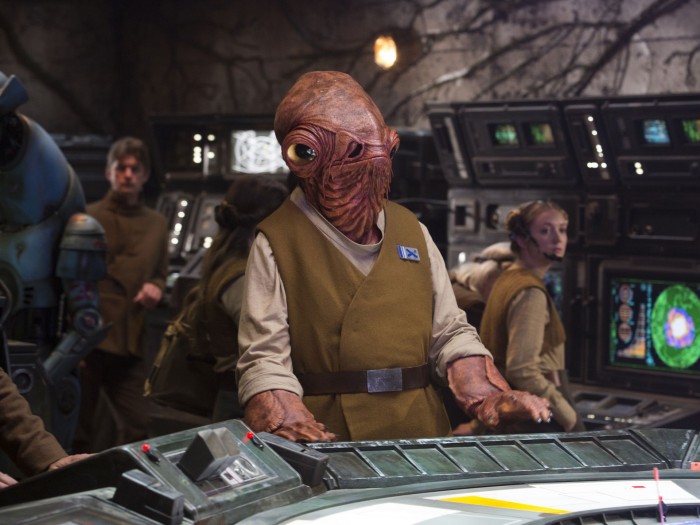 In that same interview, Whitta revealed why Admiral Ackbar didn't make an appearance in Rogue One. The short answer: blame J.J. Abrams.
"I always loved Admiral Ackbar. I wanted to have him in there, but J.J. Abrams got to him first. We didn't want to use him again after The Force Awakens. So Ackbar became Admiral Raddus. You will see those little evolutions."
I love how they're concerned with Ackbar fatigue. Oh well – we'll see that old scamp again in The Last Jedi later this year.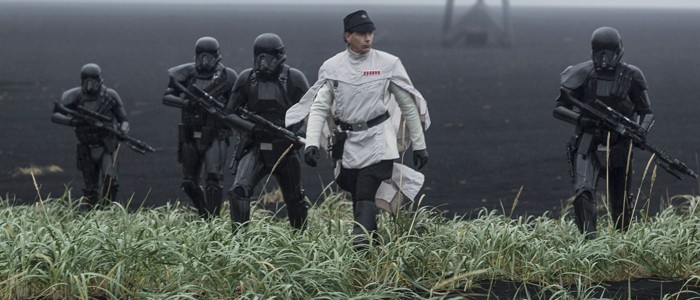 Rogue One's production designer, Doug Chiang, told IGN how he and his team used the movie's prologue sequence to bridge the design gap between the prequels and the original trilogy:
"There is an evolution that you can connect the dots from one film to the other. And our film was really gonna bridge the two aesthetics – the romantic designs of I, II, and III, with the more practical, functional designs of IV, V, and VI. And so we were able to touch both."
You can see that blending on display when you look at Krennic's shuttle, and they did a great job subtly connecting those dots over the course of the film.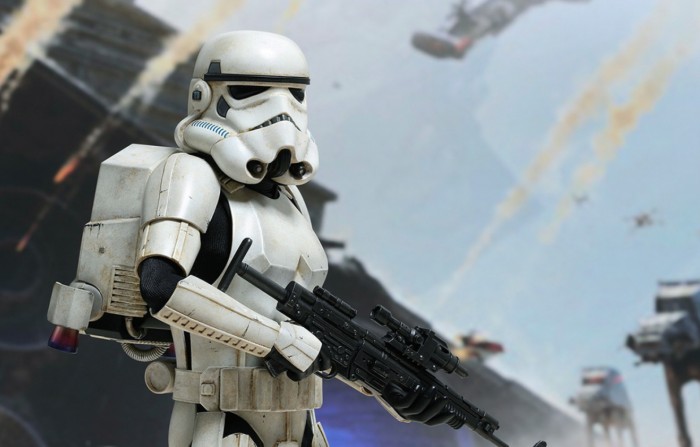 Director Gareth Edwards told MovieWeb that there are "loads of gems" still waiting to be discovered when it comes to Rogue One. The example he provided:
"I'm not sure anyone's noticed the space camels that the stormtroopers ride in Jedha..."If you look really very carefully when Jyn and Cassian are walking through Jedha, you'll see these giant camel things that Stormtroopers are riding on the left. Everyone looks at the imperial probe droid from Empire Strikes Back to the right instead."
Hiding an easter egg behind a different Easter egg? Devious!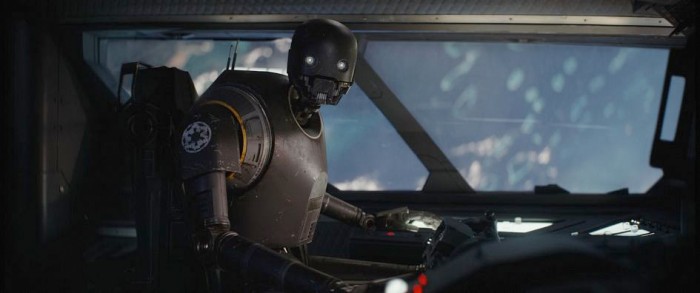 Alan Tudyk, who played the fan-favorite droid K-2SO in Rogue One, told Uproxx that he wanted K-2 to appear in the young Han Solo movie. He also mentioned another idea for a spin-off:
"I want a Cassian and K-2 movie where we see who they were beforehand. And see the story of Cassian finding K-2 and who was K-2 back when he was in the Empire and all of that. So there's a lot of stories. Now that they're telling these different stories, there's a lot of opportunities to branch out. I'm pushing for that one! That one sounds good."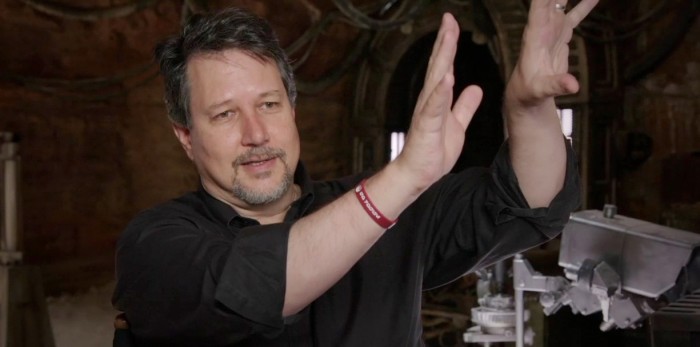 Tudyk isn't the only one pushing for more spin-offs. ILM's John Knoll – who came up with the story for Rogue One – told ScreenRant he has another idea rattling around in his head that has the potential to become a new movie one day. "I do have one more idea that I may or may not pitch. I've got it about 3/4 figured out and if I can solve that last portion of it, I'll see if Kathy [Kennedy is] interested. She may throw me out of her office." May the Force be with you, sir.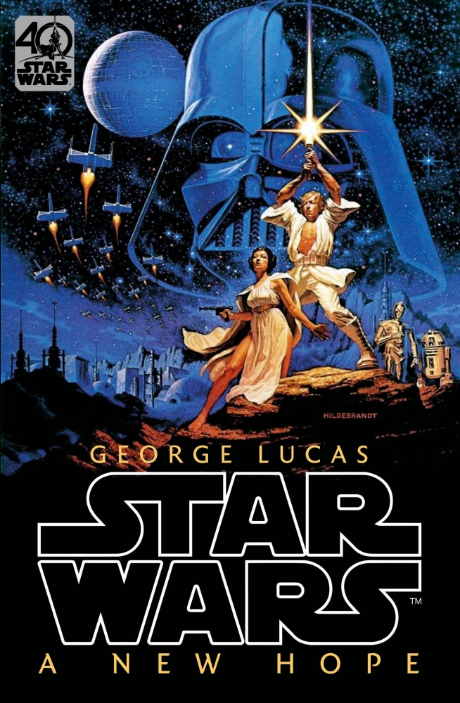 I know I promised this would be a Rogue One-centric edition of Star Wars Bits, but since that film leads so directly into the events of A New Hope (so much so that someone has already created a fan edit splicing the two together), I figured it'd be OK if I cheated a little and dropped one New Hope-centric entry in to finish this off.
JediNews says Penguin Publishing is going to celebrate Star Wars' 40th anniversary with a re-release of the original 1976 novelization of A New Hope, which was ghostwritten by acclaimed writer Alan Dean Foster. Novelizations may not mean much to a younger audience, but before the days of VHS and the internet, that was often one of the only ways to soak in a favorite movie after seeing it in a theater. Seems like a safe bet this re-release will sell a lot of copies due to nostalgia alone.