He'll Be Back: Arnold Schwarzenegger Says He's Not Done With 'Terminator' Films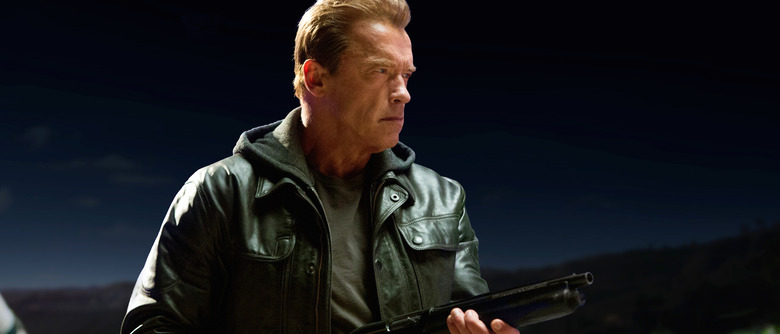 A sequel to Terminator: Genisys is dead. But James Cameron and Deadpool director Tim Miller are supposedly teaming up for a Terminator 6, so the franchise itself hasn't been terminated yet. Genisys star Emilia Clarke won't be coming back for more, and even Jai Courtney says it's time to hang it up, but now original series star Arnold Schwarzenegger says he's not finished making Terminator movies. Man, I'm starting to feel like Sarah Connor trapped in an insane asylum over here. Come with me if you want to learn the latest about this on-again, off-again franchise.
Schwarzenegger spoke with Fandango and told them straight up, "I'm looking forward to doing another Terminator movie, yes." When he was asked about recent reports indicating that the franchise was over, he responded:
"I don't want to call it, like, fake news, like the president calls it, but I think people just write things – I have no idea why. Just because Paramount doesn't want to pick up the Terminator franchise, you have 15 other studios willing to do it – that doesn't mean the Terminator franchise is finished, right? It just means they are on their way to negotiate with another studio, but I can't give you the details of that. They'll announce that. But, yes, the Terminator franchise is never finished. And remember that after 2018, James Cameron is getting it back, and then it will continue on!"
As far as I can tell, Schwarzenegger is railing against a report from The New York Daily News that came out back in March, which claimed Arnold was done with the franchise and it was coming to an end. But as Schwarzenegger correctly points out, the only thing that's up in the air right now is Paramount's continued involvement moving forward. That studio is apparently finished making these movies, but Skydance CEO David Ellison, who produced Genisys, says the franchise has "an incredibly bright future" and teased an announcement coming later this year which will hopefully sort out all of this confusion.
Will Skydance stay on as a producer while another studio scoops up the distribution rights? Possibly 20th Century Fox, who has been in the James Cameron business since Titanic? Sounds like they'd be smart to angle for that deal if they can get it. While many people have written off the franchise's potential since there hasn't been a great Terminator movie since T2, Cameron sounded optimistic about making a relevant entry for modern audiences when he spoke about the idea earlier this year:
"In a time when people are being absorbed by their virtual-social world, I mean, just look around. I always say: if Terminator was about the war between the humans and the machines, look around any restaurant or airport lounge and tell me the machines haven't won when every human you see is enslaved to their device. So could you make a relevant Terminator film now? Absolutely."
What do you think? Do you want to see another Terminator movie with Arnold (who's currently 69 years old, by the way) reprising his role?