Luc Besson Shares Memories From 'The Fifth Element' And 'Leon'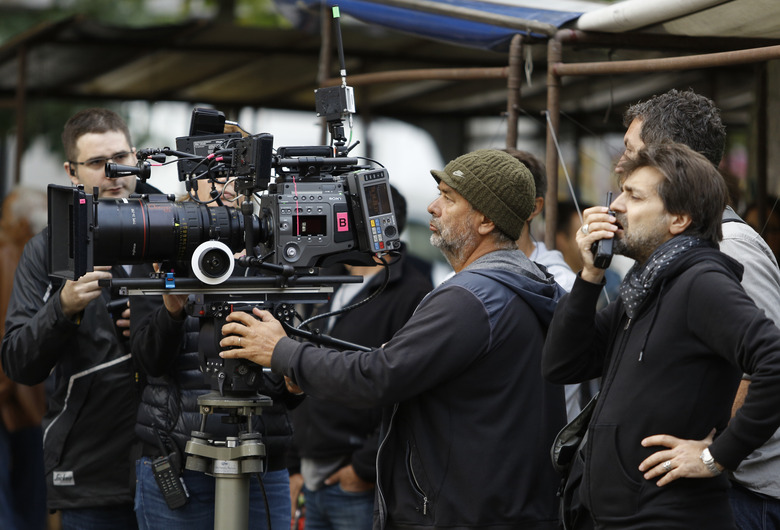 How was it working with Gary Oldman? Like driving a Ferrari for the first time, according to Luc Besson. The writer-director behind this summer's Valerian and the City of a Thousand Planets recently took to Reedit to promote his upcoming comic book adaptation. The gregarious filmmaker shared a few memories from some of our favorite works of his, The Fifth Element, Leon, and La Femme Nikita.
If you want to know which other actors the director had in mind for Korben Dallas (Bruce Willis) and Ruby Rhod (Chris Tucker), then check out some of the more entertaining answers from the Luc Besson Reddit AMA below.
The other day the new trailer came out for Valerian and the City of a Thousand Planets, which looks unlike any other big summer movie in recent memory. The exuberant colors and the sense of gleeful, self-aware escapism scream Besson's name. The trailer also shouts the names of comic book writer Pierre Christin and illustrator by Jean-Claude Mézières, the two artists responsible for creating special operatives Valerian (Dane DeHaan) and Laureline (Cara Delevingne).
Here are a few of Besson's delightful and insightful responses from his recent session on Reddit (via Tvovermind):
Who else did you have in mind for The Fifth Element if Bruce Willis had passed?
I had asked Mel Gibson first because he had his office next to mine at Warner Brothers. He peeked into my office every morning to tell me that he was thinking about it. After 3 months, he passed. But we became friends. Bruce was the only other choice I had in my mind.
Mr. Besson, when writing and casting 5th Element, did you have anyone specifically in mind for Ruby Rod? Did Chris Tucker's interpretation completely change the character or was that more or less as written?
It was written for Prince. I met him, he said yes. But then he went on a world tour for 10 years!! We couldn't find time in his schedule. Then I started casting and the two finalists were Chris Tucker and Jamie Foxx. Jamie was amazing, but he was as strong as Bruce, and Chris looked like a shrimp so I knew it would be funnier. But what a luxury to have to choose between these three talented people.
What's your favorite movie? Sci-fi or otherwise?
It's impossible to give only one. But here are a handful of titles in this order: 2001: A Space Odyssey, Star Wars, Avatar, Alien, Blade Runner...
Why so long between sci-fi epics? 
First, they are not so easy to do. And sometimes people don't understand why I go from a French B&W film to an historical figure, but by exploring different worlds and working with different subjects, I became richer so when I came back to sci-fi I felt much more invigorated. It's like a chef – if he's cooking the same meal all of the time, she/he doesn't learn anything. She/he has to travel and sample everything to come back with a new menu.
As a huge fan of Leon, did Gary Oldman's "EVERYONE!" scream scare everyone on the set since no one expected he was going to deliver his line that way?
Yes, especially because the hallway amplified his scream. The entire building was aware. We shot the scene in spanish Harlem, so we had some fake police cars in the street and a bunch of people watching us film. Suddenly on the other side of the street a car stops and four guys actually robbed a bank while we were shooting. The people watched the robbery for a minute and then just turned back to set where it looked more interesting. One guy said to me "we don't see a movie set every day around here."
Can you talk a little bit about your writing process?
I always start with one idea or one concept, then I take notes. Sometimes that lasts 15 years. Then I put four pieces of paper in front of me, my four acts. And if it doesn't work on four pages I don't write the script. When my structure is ready, I start writing and usually it goes very fast. Almost like I press the "print" button. To give you an example, I wrote Leon in 14 days.
What was your inspiration behind Leon the Professional and what brought you to do that movie?
Jean Reno loved the character of the cleaner in La Femme Nikita so much that he asked me to write a film about this character. So I started thinking about his cousin in America. I was not supposed to direct it, but I fell in love with the script.
While the director is already dreaming of a sequel to Valerian and the City of a Thousand Planets - and writing one – he said he intends on directing a smaller picture next, something more similar in scale to Angel A.
Valerian and the City of a Thousand Planets opens in theaters July 21.