'Unforgettable' Trailer: Katherine Heigl Ruins Rosario Dawson's Life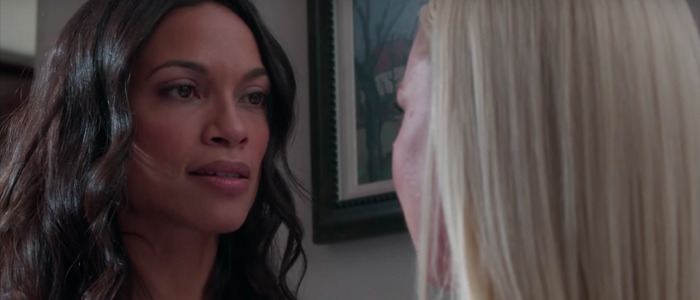 Denise Di Novi produced Crazy Stupid Love back in 2011, but that title could also work for her upcoming directorial debut, a psychological thriller called Unforgettable. Former rom-com queen Katherine Heigl plays a deranged woman who's jealous of her ex-husband's new fiancee Rosario Dawson, and she sets out to psychologically abuse his new lady in the hopes of getting her man back. Crazy? Check. Stupid? Check. Love? Misguided, but check. Watch the newest Unforgettable trailer below.Here's the trailer:
This is much shorter than the first trailer, and I feel like it's a little less coherent as a result. But it doesn't take long to realize the game Heigl's playing here, and this movie knows exactly what it's trying to emulate. It shares DNA with thrillers like Fatal Attraction, Basic Instinct, The Hand That Rocks the Cradle, and Obsession; films about a lover who takes things too far, with one party clearly more interested in keeping the flame alive than the other. Whether this one will be able to live up to those standards remains to be seen.
I do find it interesting that Heigl is taking on a role like this. She's largely fallen off the Hollywood map after being anointed the heir apparent to Julia Roberts and starring in a string of successful romantic comedies between 2007 and 2011. She earned a reputation for being "difficult" to work with (it's unclear whether that was warranted or not), but by taking a part like this, it appears as if she's leaning into the critical perception of her. (Not unlike January Jones playing an ice queen in X-Men: First Class.) I've admittedly never been a huge fan of hers, but it takes some guts to make a move like that, and now I'm actually rooting for her to get back in the game. The only thing Hollywood loves more than building up and breaking down actors is a classic underdog story, so we'll see if Heigl can pull it off.
Tessa Connover (Heigl) is barely coping with the end of her marriage when her ex-husband, David (Stults), becomes happily engaged to Julia Banks (Dawson)—not only bringing Julia into the home they once shared but also into the life of their daughter, Lily. Trying to settle into her new life, Julia believes she has finally met the man of her dreams, the man who can help her put her own troubled past behind her. But Tessa's jealousy soon takes a pathological turn until she will stop at nothing to turn Julia's dream into her ultimate nightmare.
Unforgettable opens in theaters on April 21, 2017.