Liam Neeson To Play Philip Marlowe In William Monahan-Scripted 'Marlowe'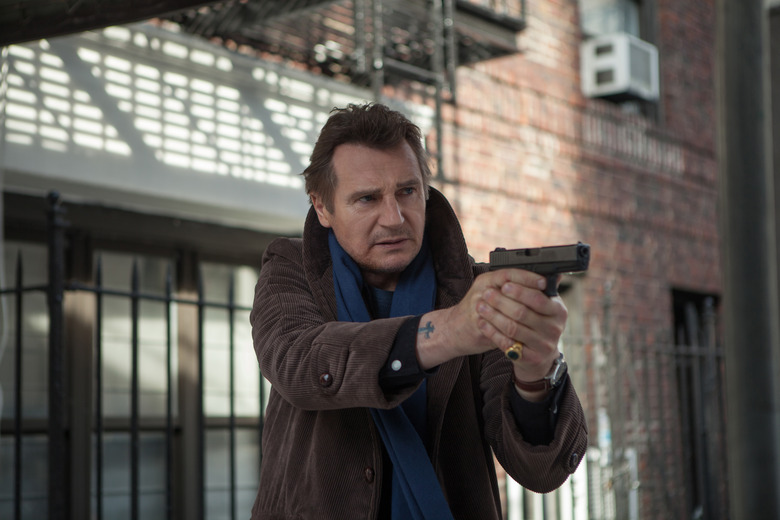 Liam Neeson has signed up to play detective Phillip Marlowe in a film hailing from Academy Award-winning screenwriter William Monahan (The Departed). The project, titled Marlowe, is based on Benjamin Black's "The Black-Eyed Blonde." Some incredible actors, including Eliot Gould (The Long Good-Bye), Humphrey Bogart (The Big Sleep), James Garner (Marlowe), and Robert Mitchum (Farewell, My Lovely), have played Raymond Chandler's famous P.I. in the past, and Neeson's name should fit comfortably right alongside those towering names.
Below, learn more about the new Philip Marlowe movie.
Variety is reporting Nickel City Pictures and producer Gary Levinson (Jack Reacher) are behind the project, which will soon go up for auction. Monahan's script is based on one of the authorized Marlowe stories by another writer.The Black-Eyed Blonde, which was published in 2014 and named after Benjamin M. Schutz's short Marlowe story, follows the private investigator at a low point. When he's more lonely than usual and a bit hungry for work, he takes a job to find a young woman's former lover, Nico Peterson. Set in the early '50s in Bay City, California, Peterson's disappearance, of course, leads to trouble for Marlowe, who will go up against some of Bay City's richest.
Monahan, the screenwriter behind Kingdom of Heaven and the director of Mojave, issued a statement about taking on the responsibility of going into Chandler's world:
The book by Benjamin Black was a pleasure to adapt, and with Marlowe there's no chance of even being asked to do it left-handed. You have to do Chandler justice, carry a very particular flame, or stay home.
He added:
It's hard to tell who has the more of a lion's heart and soul, Philip Marlowe or Liam Neeson. I hope I've done the both of them and a picture I could not anticipate more some service.
It's been a while since audiences have watched Marlowe up on big screen, but with Neeson playing him, and Monahan writing him, the character is returning with plenty of talent at his back. Monahan has written some excellent crime stories, so his involvement raises expectations.
The screenwriter recently worked on the Evil Knievel project for Paramount. As for Neeson, he recently starred in Martin Scorsese's Silence, and we'll next see him in Jaume Collet-Serra's The Commuter, the Mark Felt/Deep Throat movie Felt, a remake of In Order of Disappearance, and Steve McQueen's Widows. With Marlowe, the actor continues to sign up for movies we want to see in theaters.