'American Gods' Opening Titles: The Old And New Come Together Beautifully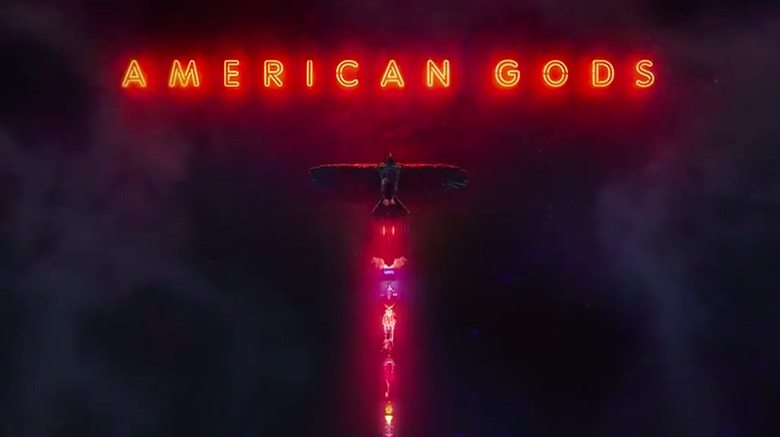 The old and the new gods will soon butt heads in the upcoming adaptation of Neil Gaiman's American Gods. According to our own Jacob Hall, who saw the pilot at SXSW, their war gets off to a promising, bizarre and evocative start. Exactly one month before the rest of us get to see what co-creators Bryan Fuller and Michael Green have cooked up, Starz has released the hypnotic American Gods opening titles sequence.
Odin/Mr. Wednesday (Ian McShane) and ex-con and widower Shadow Moon (Rick Whittle) are about to go on one fantastical, weird journey in Starz's new series. Together, they'll see if they can wrangle up a few old, forgotten deities ready for a fight. Their opponents? Gods based on money, celebrity, technology, and other modern obsessions.
The clash between the old and the new is illustrated in the opening title sequences, which radiantly slams together religious iconography and American symbols:
These 96 seconds, created by Elastic, set a tone for a show I immediately want to watch. Ancient gods, muscle cars, pyramids, a neon cowboy – what other series has all that going for it at the moment? Fuller and Green wanted to get a little strange with the opening titles for their strange show:
Is it strange to want action figures from a main title sequence? Crucified astronauts, neon cowboys and S&M centaurs, we bow to Elastic and their spectacular vision. A totem of godly visions we didn't know we needed to worship until they showed us the light with this clarion call to the American Gods.
Jacob says the title sequence perfectly captures the tone of the show, which he believes could turn into something special:
American Gods appears to do justice to Gaiman's work, expanding on his world while being faithful to what makes it work in the first place. Green and Fuller seem to have crafted something very special, perhaps even a series that can replace the dark fantasy hole in our hearts when Game of Thrones comes to an end. This could be something special. Let's hope.
The trailers, the first reviews, and these opening title credits continue to tease one gorgeous show. Considering what impeccable style Fuller has – which is proven in every episode of Hannibal and Pushing Daisies – we're hoping for a series as visually enchanting as these credits.
American Gods premieres on Starz on April 30, 2017.