CinemaCon Reactions: 'Aquaman', 'Wonder Woman', 'Justice League' & 'Blade Runner 2049'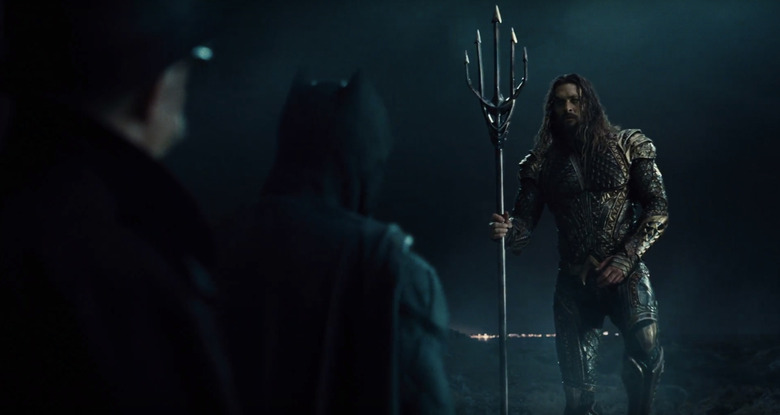 Warner Bros closed out the third day of CinemaCon with a presentation of their upcoming film slate, which included an Aquaman concept trailer, three clips from Wonder Woman, a slightly extended Justice League trailer, and a behind the scenes featurette for Blade Runner 2049 that featured a bunch of new footage. Read on to hear my thoughts on the lot of them.
After the Warner Bros presentation, I recorded a video blog reaction with Steven Weintraub from Collider, which was posted live on Periscope (follow me on twitter @slashfilm for future live videos). You can watch that reaction video below:
We saw new footage: Aquaman, Wonder Woman, Justice League and Blade Runner 2049 https://t.co/1x4cAy6aJd

— /Film (@slashfilm) March 30, 2017
Aquaman
DC's underwater superhero film has yet to begin shooting (Jason Mamoa, who was in attendance, said he was flying to Australia after the presentation to start filming), but director James Wan edited together a concept trailer for the CinemaCon audience. The piece was basically a combination of concept art and animatics, with James Wan giving some voice over perspective to the visuals.
The footage began with images of what looked like an outer space battle with enormous and small ships, but as James Wan explained, "It's not until the ships get so close that you realize that's not a spaceship. That's a human riding a shark!" We see ships that look like fish, and fish creatures that look like ships.
The concept trailer gave us a good look at the underwater city of Atlantis, which looks like a visual treat. Wan described Aquaman as an origin story – the first time we see Atlantis should be the same time Aquaman sees Atlantis. "You get to see a whole different world you've never seen before," promised Wan. Think Lord of the Rings but underwater.
Wan says that Aquaman couldn't have been made five years ago because everyone in this underwater world is basically their own superhero. All the characters are like Superman, flying through their world because they are under water. Each one has their own unique abilities.
We saw some concept art of the villain, Black Manta. Another piece showed Aquaman tied up under water as though he's on trial for a crime. Another image shows Aquaman swimming up to touch a huge whale underwater. Another piece of concept art showed a giant underwater creature that almost looked like something out of Lovecraft. They showed Atlan, the first king of Atlantis who sank the city and the other seven kingdoms. We also saw some robot creatures that look like they have growing red laser eyes (I'm not sure how they fit in). Another piece showed a lighthouse and some people on a boat, promising some action above water. Wan describes the film as a fun adventure with romance
The concept art was very impressive and has me very excited to see how it turns out.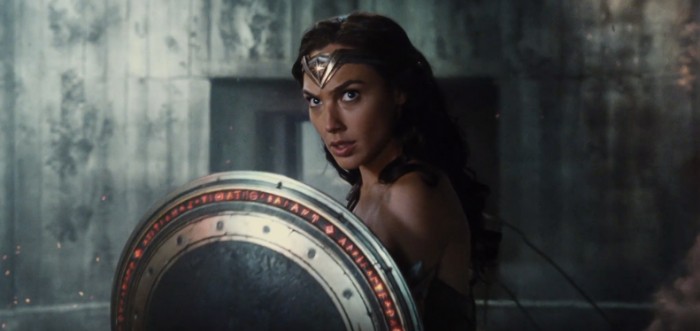 Wonder Woman
Warner Bros. also screened three clips from Wonder Woman, the next movie in their superhero slate to hit theaters. One was a scene featuring Chris Pine's Steve Trevor and Gal Gadot's Diana on a boat. It's a heartfelt conversation between the two, who are clearly from much different worlds. Some of the humor in this scene could be compared to Thor's inability to grasp the mortal realm, which I liked but your mileage may vary.
Another scene featured Steve and Diana in disguise in London. They are followed and mugged in an alleyway. Steve initially tries to protect Diana, but the situation reverses itself, with Dianna killing the henchmen and using her Lasso of Truth to take out one of the men as he runs away.
The third and final clip, also set in London, gave us a better look at the film's stylish action. We say Diana running through what appears to be an urban war zone, vaulting up a building and crashing through a wall, where she systematically takes out a group of soldiers. The whole sequence is super stylized and fun.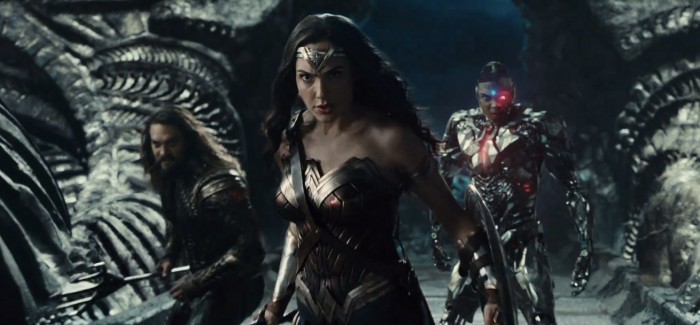 Blade Runner 2049
Blade Runner 2049 continues to look stunning (Sony, who is distributing internationally, screened footage earlier this week). The new footage included a shot of Ryan Gosling's character activating an antique jukebox that has a small hologram of an old-time singer and an aerial look at a futuristic city with the classic Atari logo billboard. We go into this in greater depth in the video reaction above, but suffice to say it looks cool.