'Ferdinand' Trailer: John Cena Grabs The Bull By The Horns In A Piece Of Meta Casting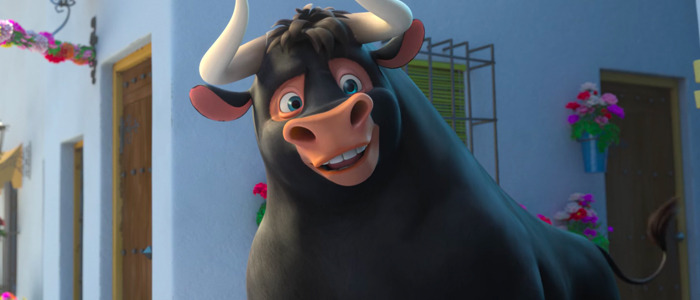 An animated film about a physically imposing character who's more than a muscle-bound idiot, with a message about not judging others based solely on their looks? That's about as subtle as a bull in a chi...well, you know the rest. But animated movies provide teachable moments for young audiences, and even though we're all familiar with these tropes, there's always a new generation who'll be learning them for the first time.
Enter Ferdinand, the latest animated effort from Blue Sky Studios. 20th Century Fox has released the first trailer, and if nothing else, it features an impressive voice cast. Watch the full Ferdinand trailer below.Here's the trailer, which actually includes a "bull in a china shop" scene because of course it does:
That's wrestler/actor John Cena as the title character, and that piece of meta casting may be the most intelligent thing this movie has going for it. Cena is an imposing physical presence in real life, and it makes sense that he'd be the star of a brainless action movie like 12 Rounds. But as we've recently seen in comedies like Trainwreck and Sisters, there's more to him than meets the eye. Hollywood seems to be slowly accepting him as a comedic supporting player, revealing a side to the actor that stands in opposition to audiences' first impressions of him.
The film is based on a beloved children's book by Munro Leaf and Robert Lawson that was first published back in 1936. An interesting historic note: Adolf Hitler ordered copies of the book to be burned in Nazi Germany, but a reported 30,000 copies were handed out to the nation's children following the end of World War II.
Walt Disney adapted the story of Ferdinand into an Oscar-winning animated short in 1938. Check that out below.
This new movie adaptation expands the story considerably, and features a supporting cast that includes SNL star Kate McKinnon, Jane the Virgin's Gina Rodriguez, Hamilton actor Daveed Diggs, Gabriel Iglesias, Bobby Cannavale, former Doctor Who David Tennant, Anthony Anderson, Jerrod Carmichael, and more.
Ferdinand hits theaters on December 15, 2017, which means 20th Century Fox is looking to use it as counter-programming against Disney and Lucasfilm's Star Wars: The Last Jedi. Yeah...good luck with that.
FERDINAND tells the story of a giant bull with a big heart. After being mistaken for a dangerous beast, he is captured and torn from his home. Determined to return to his family, he rallies a misfit team on the ultimate adventure. Set in Spain, Ferdinand proves you can't judge a bull by its cover.