Paramount CinemaCon 2017 Presentation: 'Transformers: The Last Knight,' 'Baywatch,' 'Downsizing,' 'Annihilation'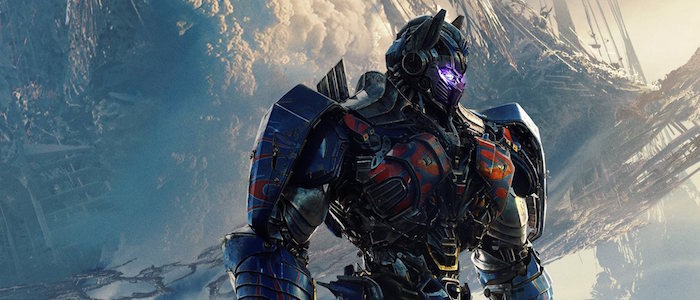 The second presentation of the second day of CinemaCon 2017 came from Paramount Pictures and the studio came to Las Vegas with trailers for and footage from their 2017 and 2018 slate of films. Specifically, we saw presentations on Michael Bay's Transformers: The Last Knight, Alexander Payne's Downsizing, Seth Gordon's Baywatch, and Alex Garland's Annihilation. Here's what you need to know.
Shortly after the presentation, I recorded a reaction video with Steven Weintraub of Collider. Give it a watch or keep reading for my written thoughts.
CinemaCon Reactions: Transformers 5, Annihilation, Downsizing https://t.co/6kxRAKZn5Z

— /Film (@slashfilm) March 29, 2017
Baywatch
Baywatch star Dwayne "The Rock" Johnson was introduced by two dozen men and women in skimpy bathing suits on stage, setting the tone for the footage ahead. They premiered a "fuchsia band" trailer, joking that the "FU" stands for "fucking unbelievable." I'm still of the opinion that this movie looks pretty lame – it's trying to be 21 Jump Street (a self-aware riff on '90s television), but the jokes just aren't that funny and the movie seems lack the weird touch/genius of Phil Lord and Chris Miller. I love The Rock and I enjoy filthy humor, but this just seems a bunch of lame jokes strung together with dental floss.
Annihilation
Directed by Ex Machina's Alex Garland, this adaptation of Jeff VanderMeer's (Ed. note: incredible) science fiction novel looks very intriguing. A "first look" from the film screened, which set up the premise: Natalie Portman plays a woman who hasn't heard from her military husband (Oscar Issac) in over a year and has given up on his return. One day, he shows up at her house and is unable to explain what happened or where he was. He says he doesn't feel good and begins bleeding from his nose and mouth. We cut to an ambulance ride to the hospital, but they get pulled over by a SWAT team. It is explained to Portman's character that her husband was sent into a quarantine zone where they believe an extraterrestrial ship had crashed. No one they've sent into the zone, including drones or the rest of his team, have returned. He is the only one.
We saw glimpses of the zone, an alien-looking world somehow growing on Earth. The movie is about Portman's character's search to find answers about this world and what happened to her husband. The footage we saw has vibes of Arrival and the score sounds similar to Clint Mansell's work on The Fountain. It's very promising. Unfortunately, the footage came with the news that the film has been delayed to 2018.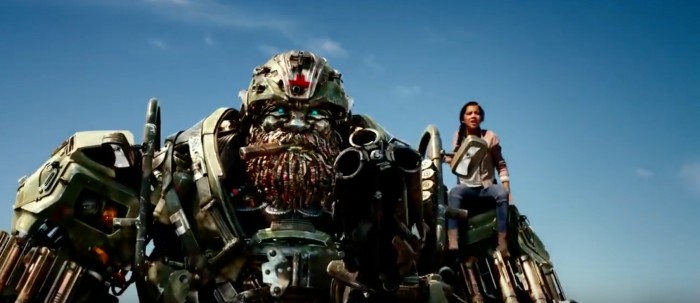 Transformers: The Last Knight
Director Michael Bay and his cast premiered a 15-20 minute reel of clips from Transformers: The Last Knight. Before the presentation, Bay admitted he didn't want to come back for another Transformers film, but was convinced when he realized that he could combine two ideas that Steven Spielberg presented to him. Watching the footage, it's very clear that this movie is a mash-up of two different scripts: one delves into the Transformers mythology and its weird connection to Arthurian legend while the other is more of a Terminator style story set in a post-apocalyptic future with Mark Wahlburg playing the protector role.
To be honest, the mythology and Arthurian legend material looked fantastic. I didn't know I wanted to see Michael Bay direct a King Arthur movie, but after seeing this footage, I think I do. The other side of this film seemed a bit less interesting. The comedy, which is always bad in these films, seems even worse in this one. Anthony Hopkins' character has a Transformer butler named Cogman who is just plain unbearable, bringing scenes to a complete standstill.
As you'd expect, the action looks fantastic – Bay definitely has the "making a Transformers movie" formula down. This is also the first film to come out of the relatively new Transformers writers room and it's expected to dive deep into franchise's mythology, setting up future films. I'm intrigued about that aspect of the film and there are elements in this footage that looks like they may surprise fans.
Downsizing
The most exciting thing I've seen at CinemaCon so far is a sneak preview of the dark comedy Downsizing, the latest film from Election director Alexander Payne. This had not been on my radar (although I'm a fan of Payne's movies) and I was surprised at how different this movie seems to be from his past work.
The premise for Downsizing is genius. What happens if Norwegian scientists develop a method to shrink people to five inches tall, potentially solving our planet's overpopulation problem? People discover they are able to consume more and live out their wildest dreams. People who were only able to afford a small apartment before being shrunk can afford a huge mansion and anything they could possibly want in miniature size.
The movie stars Matt Damon and Kristen Wiig as a married couple who decide to take the plunge into miniature life. The 10-minute preview we saw was darkly funny, almost like an old school Charlie Kaufman movie. I can't tell you how excited I now am to see this movie. Mark it on your calendars now: December 22, 2017. Trust me.