'Dirty Rotten Scoundrels' Remake 'Nasty Women' Gets A 'Veep' Director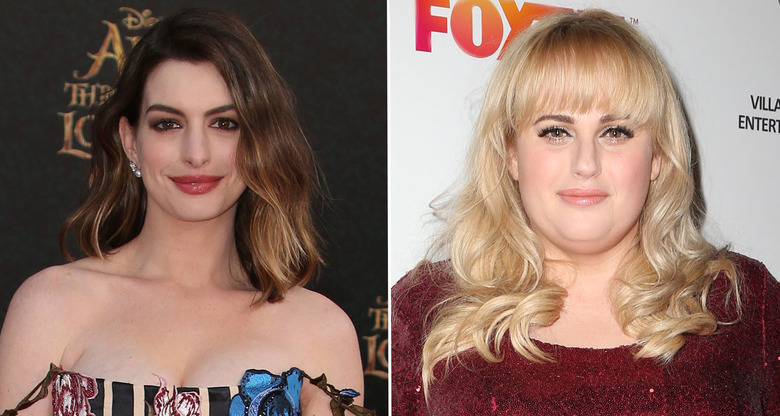 Anne Hathaway and Rebel Wilson's gender-bending Nasty Women movie finally has a director. Veep director Chris Addison will be helming the Dirty Rotten Scoundrels remake in his feature film directorial debut.
Addison has closed the deal with MGM to direct Nasty Women, according to Variety. Jack Schaeffer will be writing the screenplay for the remake of the 1988 grifter comedy Dirty Rotten Scoundrels, directed by Frank Oz and originally starring Steve Martin and Michael Caine as two con men competing to swindle an heiress. The '88 film itself was a remake of Ralph Levy's 1964 movie Bedtime Story, starring Marlon Brando, David Niven, and Shirley Jones.
For a refresher on the story, watch the trailer for Dirty Rotten Scoundrels:
Not much is known about Nasty Women other than its gender-reversed cast and politically-charged title — "Nasty Woman" is a reference to a jab that Donald Trump made at Hillary Clinton during the final 2016 presidential debates, before the Internet and the Clinton campaign reclaimed it as a feminist rallying cry.
The plot, according to Variety, sounds fairly similar to the original, but updated to modern day: "Nasty Women follows two female scam artists, one low-rent and the other high-class, who compete to swindle a naive tech prodigy out of his fortune."
And what else is there to be known about Addison, the fresh-faced director who has signed on for this project? He is best known for his work on the small screen, having directed episodes of HBO's Veep and BBC's The Thick of It. His upcoming projects include Fox's Fresh Off the Boat and NBC's Playing House. Addison is also a comedian and actor, appearing in British series such as Doctor Who, Skins and The Thick of It.
So he seems to specialize in dry, witty comedy, which seems like a good fit for Nasty Women — especially Wilson, who has been known for playing outrageous characters in cringe comedy films.
Nasty Women won't be the first — or last — movie to remake a movie with a gender-bending twist. The new Ghostbusters starring Melissa McCarthy, Kristen Wiig, Kate McKinnon and Leslie Jones was at the forefront of that wave last year, and we can look forward to the upcoming Ocean's Eight (Hathaway again, leading a score of other talented ladies alongside Cate Blanchett) and the Jillian Bell-Channing Tatum remake of Splash.
Unfortunately, these female-driven reboots are often in hot water, waylaid by often unjustified criticism that women are ruining people's favorite franchises. Ghostbusters also saw the brunt of that, but Nasty Women seems to be leaning into that backlash with its title, suggesting to naysayers that "the future is female."