Early Buzz: 'Pirates Of The Caribbean: Dead Men Tell No Tales' Is Surprisingly Good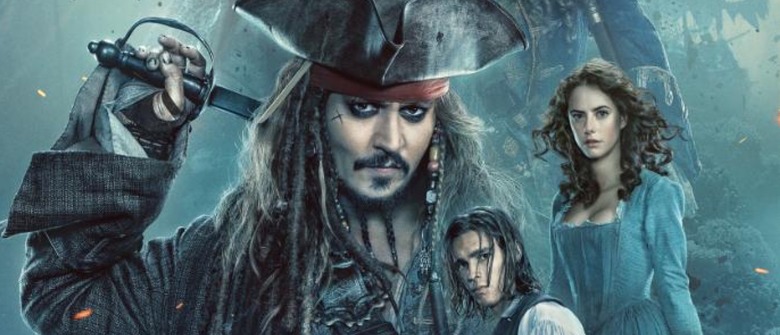 Last night at CinemaCon 2017, Walt Disney Pictures screened Pirates of the Caribbean: Dead Men Tell No Tales to exhibitors and press packing the Coliseum in Ceasar's Palace in Las Vegas. Is it possible that Disney is screening the fifth Pirates film two months early because they believe they have a good movie? While we were asked to not write a full review, we were allowed to publish a brief reaction.
First, you can watch a video reaction I recorded with Steven Weintraub from Collider immediately following the screening:
We've seen Pirates of The Caribbean: Dead Men Tell No Tales! Here's our reaction. https://t.co/zJQANWf1Qo

— /Film (@slashfilm) March 29, 2017
Like many of you, I was a huge fan of the first Pirates of the Caribbean film. Johnny Depp was brilliant and Gore Verbinski's swashbuckling tale was both a good homage to the classic Disneyland ride while also being just a kick-ass film. While the first two sequels are held in low esteem by most filmgoers, I think they are better than many people remember. Sure, they have convoluted plots, but the action set pieces are fun, and I still enjoy the characters and world-building. However, the fourth Pirates movie, which was more of a spin-off focusing on Captain Jack Sparrow rather than a proper continuation, was not good by anyone's estimation.
With that out of the way, here's my spoiler free reaction to the fifth movie.
Pirates of the Caribbean: Dead Men Tell No Tales is a pleasant surprise. Even though none of us were asking for another Pirates movie, I think most fans of the franchise will be happy we got this one.
What makes this new Pirates movie good is that they went back to the roots of the series and concentrate on the characters we love and their legacies. The main villain's story is intimately tied to Captain Jack Sparrow's past and the central MacGuffin that everyone is chasing has very personal stakes for the characters involved. The result is a more heartfelt adventure that you actually care about.
I can't say yet where I'd rank it in the series, but it's a much better film than the last installment and has many improvements over the first two sequels in the original trilogy. If I have one complaint, it is that I miss Gore Verbinski's over-the-top action sequences. Don't get me wrong, the action from newcomers Joachim Rønning and Espen Sandberg is solid, but it's different than the original trilogy. This one has a fun, elaborate opening set piece, but it never quite manages to top it.
Dead Men Tell No Tales doesn't worry about building a trilogy of films (there is no cliffhanger) and takes the time to tell its own story on its own terms. The story is easy to follow (which is saying something for this series), the action isn't confusing, and the situations are often fun and funny. You can't say any of that about the previous sequel. Series newcomer Kaya Scodelario is a stand-out, and Javier Bardem does a fine job as the film's villain.
Here are some other reactions from press in attendance:
Pirates 5 is definitely the best one since the first. Admittedly, that isn't saying much but it does occasionally capture that magic.

— Germain Lussier (@GermainLussier) March 29, 2017
👍 for #PiratesoftheCaribbean. You don't think you need more Jack Sparrow and then you realize you needed more Jack Sparrow#CinemaCon

— Erik Davis (@ErikDavis) March 29, 2017
Thing I liked most about #PiratesoftheCaribbean is it felt the most like the first movie, which is my personal favorite. Strong finale pic.twitter.com/SF9b6uk4GU

— Erik Davis (@ErikDavis) March 29, 2017
Also has, in Kaya Scodelario @kScodders, the strongest female character in the franchise. #CinemaCon2017

— Sean P. Means (@SeanPMeans) March 29, 2017
The new Pirates of the Caribbean is a big step up from the lifeless 4. Back to the fun myth building, still miss Verbinski's imprint.

— Eric Vespe (@EricVespe) March 29, 2017
You might be surprised to hear me say this but I really dug the new Pirates of the Caribbean movie. Action set pieces are a lot of fun. pic.twitter.com/mluWwqyU8r

— Steven Weintraub (@colliderfrosty) March 29, 2017
Also the action scenes are really well staged and easy to follow. So much better than the last one. #PiratesoftheCaribbean

— Steven Weintraub (@colliderfrosty) March 29, 2017
Also new Pirates of the Caribbean the VFX are *really* well done. Had no ending credits so not sure if it has after credits scene.

— Steven Weintraub (@colliderfrosty) March 29, 2017
Pirates of the Caribbean Dead Men Tell No Takes has most heart since first movie. (1) #CinemaCon2017

— Gregory Ellwood – The Playlist 🎬 (@TheGregoryE) March 29, 2017
New Pirates could be VFX Oscar contender. #CinemaCon2017

— Anne Thompson (@akstanwyck) March 29, 2017