'The Fate Of The Furious' Featurette: This Is ''A Whole New Start To The Franchise''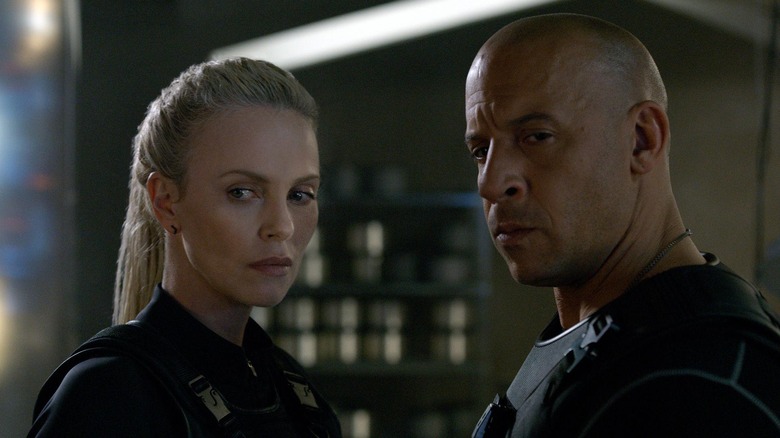 Buckle up, fam: the Fast family is about to be torn apart in a big way. Universal has just released a new featurette for The Fate of the Furious, the eighth installment in the long-running franchise which will see Vin Diesel's family-obsessed patriarch Dominic Toretto face off against his accomplices – including his wife, Letty (Michelle Rodriguez) – and align with the mysterious Cypher (Charlize Theron), who's described as "the fiercest villain the franchise has ever seen." Watch the new The Fate of the Furious featurette below.
There are a couple of things worth noting here. First, Chris "Ludacris" Bridges can't seem to escape his background as a rapper, dropping a rhyme in his interview with ease: "The motivation and inspiration is beyond your wildest imagination." Love it.
Secondly, you may think this video giving a shout-outs to the fans is just a typical way for a studio to pander to its audience, but when Dwayne Johnson says "you know, you listen to the audience," he truly means it. In fact, Johnson himself wouldn't even be a part of this franchise with audience interaction. The role of Luke Hobbs was initially written for Tommy Lee Jones, but Diesel asked his 100 million (!) fans on Facebook who they'd like to see him work with, and he took their answer and ran with it.
Back in the fifth film, I was asking 'Who should I work with?' The reason why we brought Dwayne Johnson into Fast Five was because of you. There was a girl named Jen (maybe, Jan?) Kelly who said, 'I would love to see you guys work together on-screen.' And so, we gave a role that was initially written for Tommy Lee Jones but we gave it to Dwayne, and he shined in it.
Previously, Diesel has revealed that decisions like having Michelle Rodriguez's Letty coming back from the dead and seeing Jason Statham join the franchise as a villain also originated from fan requests on Facebook.
And finally, when Ludacris promises that this is a whole new start to the franchise, I don't think that's just promotional fluff. It seems like more than any other time in the series' history, this movie will be a huge turning point and will actively set up the storyline for the next few movies. I wouldn't be surprised to see this one end with the biggest cliffhanger in the series' history.
It's amazing to see how far these movies have come since the inauspicious debut of the first film more than a decade and a half ago. Against all odds, what was once a simple Point Break knock-off has become one of Hollywood's most dominant movie franchises. It's one of the few film series that's been able to not only have that kind of staying power, which is impressive in its own right, but also to experience a huge boost in popularity around the fifth film and continue to succeed with each subsequent entry. I can't wait to see how the next movie continues the bonkers insanity that this series has become known for, and luckily fans won't have to wait much longer.
The Fate of the Furious arrives in theaters on April 14, 2017.