'Justice League' And 'Aquaman' Get Virtual Reality Deal With IMAX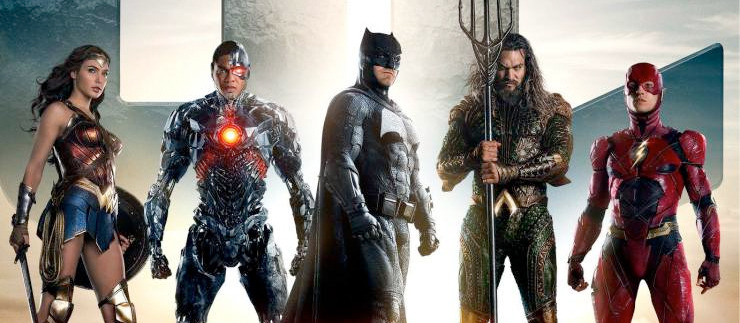 The Justice League may be expanding beyond the silver screen.
IMAX and Warner Bros. announced on Tuesday a new virtual reality production agreement to "develop and release three premium, interactive VR experiences" based on Justice League, Aquaman and a third unannounced experience. The first project, Justice League VR, is set to be launched in 2017, after which the companies plan to release one "experience" per year. Let's run down everything we know.
The sky (and sea) is the limit for the superpowered members of the Justice League, but not until now could they actually reach beyond the fourth wall and into our reality.
Now Warner Bros. has struck a deal with IMAX to bring Justice League, Aquaman and potentially other DC superheroes into a whole new world of cinematic possibility. While Warner Bros. has often released their movies in IMAX format, this would be the first time the studio would be bringing original VR content to the multiplex.
"We are excited to be partnering with IMAX to develop and deliver premium VR experiences, and believe that capitalizing on Justice League and Aquaman characters from our well-known DC properties will broaden the appeal of this fast growing technology," said Ron Sanders, president of Warner Bros. Worldwide Home Entertainment Distribution, in a release announcing the deal.
The VR experiences would be available at IMAX VR centers (which are already quite promising) before being made available to other VR platforms, including in-home and on mobile devices.
The newly announced partnership isn't the first time Warner Bros. has experimented with combining VR with the movie-going experience, marketing Kong: Skull Island with a series of VR YouTube ads.
Here's how the official release describes IMAX VR and the experience it brings to movie-viewing:
IMAX VR is a mind-shattering VR experience in a location-based, state-of-the-art Experience Centre. The IMAX VR Experience features a unique combination of premium technology and world-class content that lets users see, feel, move and play in new worlds in a powerfully immersive and realistic way, much like IMAX® theatres offer moviegoers a differentiated and best-in-class film experience. With groundbreaking VR headset technology, 360-degree sound and sophisticated room tracking, players will be instantly transported into new virtual worlds that are more realistic than anything imaginable.
It's clear that with James Cameron breaking ground with 3D and CG technology over at 20th Century Fox and Ang Lee experimenting with 4K resolution at 120 frames-per-second in 3D at TriStar Pictures, Warner Bros. is looking to make their own gains in cinematic evolution. VR has been rising in popularity in the gaming community with devices like Oculus Rift, but it has yet to make a solid impact in filmmaking. Zack Snyder's distinct visual style — and thus, the house style for the DC Extended Universe — has been noted for its video game-like qualities, possibly making Justice League and future DC movies a good fit for VR technology.
Who knows? This partnership between Warner Bros. and IMAX could be the beginning of the next era in virtual-reality filmmaking. The possibilities are virtually (Justice League) unlimited.