Our Favorite Comedies...That Also Make Us Cry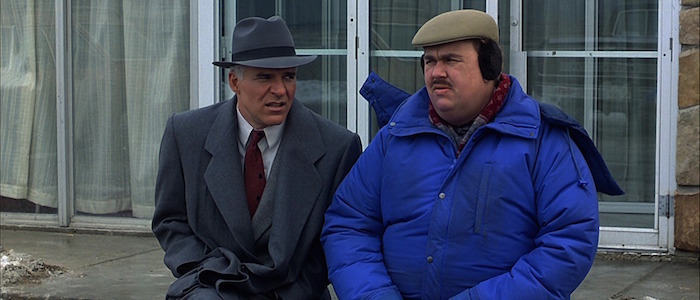 Every week in /Answers, we attempt to answer a new pop culture-related question. This week's edition asks "Which comedy also makes you cry a whole bunch?"As always, we have submissions from the /Film writing crew and podcast team, along with some special guests. This week, we are joined by The Sick co-writer/star Kumail Nanjiani and co-writer Emily V. Gordon.
If there's a comedy that makes your living room a little dusty whenever you watch it, send your thoughts to slashfilmpitches@gmail.com for a chance to be featured on the site. Find our favorite weepy comedies below!
Kumail Nanjiani and Emily V. Gordon: Monsters, Inc. and Steel Magnolias
Gordon: Oh my God. I cry at movies all the time.Nanjiani: You know what movie makes me...go ahead, Emily.Gordon: No, you go ahead.Nanjiani: Four Weddings and a Funeral is one of my favorite movies and I laugh all the time and I cry during the one funeral. But I'll say that Monsters, Inc. is a movie that really gets me super-emotional. Especially the ending.Gordon: Right at this very moment, I'm going to go with Steely Mags. I'm going to say Steel Magnolias, a movie I thought about a lot while we were writing [The Big Sick] because it deals with some really heavy stuff, but there's also really southern funny stuff in there as well.Nanjiani: Another one that makes me cry and laugh is The Iron Giant. That movie gets me super-emotional. The–Gordon and Nanjiani: "I am not a gun!"Nanjiani: That thing and "Superman." It's just...it's great.Gordon: Yeah.
Ben Pearson: About Time
Since I so passionately despise Richard Curtis's 2003 film Love Actually, one might assume I'd also think poorly of his time travel movie About Time – but I was caught off guard by how much I adore it. About Time was my favorite movie of 2013, a funny, stirring romance with terrific performances from lead actors Domnhall Gleeson and Rachel McAdams that's more than just a charming "boy meets girl" story: it's a film about family. The high concept premise is simple enough: a guy named Tim (Gleeson) inherits the ability to travel through time from his father (Bill Nighy), but there's a catch. Tim can only travel to a time and place he's previously been. Say, the first time he meets the love of his life (McAdams). The basic thrust of the film involves Tim traveling through time in order to experience certain moments with her again and again, often in humorous ways.
But onto the crying. There's a scene in which Tim and his father travel back in time together so they can relive one of their favorite moments from Tim's childhood, and it absolutely destroys me every time. The music swells, the stakes are huge (thanks to a plot point I won't divulge, this is the last time they'll be able to time travel together), and the impact is devastating. Emotional parent/child relationships tend to get to me in a big way on screen – I also cried during Armageddon when Liv Tyler talks to Bruce Willis for the last time – and About Time has become my new go-to example of the purest form of that particular brand of sadness.
Hoai-Tran Bui: 13 Going on 30
I didn't cry when I first watched 13 Going on 30. Who would? It's a frothy and fun body-switch movie with an overreactive Jennifer Garner and Mark Ruffalo at his peak dreamiest. Not to mention I was closer to 13 when I first watched it, only reveling in the '80s callbacks and the wacky antics that Garner's teenage Jenna Rink gets up to when she wakes up one day to find herself 30 years old and living her ideal life.
But on a holiday recently, I found myself watching 13 Going on 30 again on cable TV, me closer to 30 this time. I laughed, enjoying this silly movie for what it was, until I hit the scene where Billy Joel's Vienna plays as Jenna runs back home to the comfort of her parents and her abandoned childhood. And I found myself tearing up so much so that my vision was obscured and my mom asked me, bewildered, "Why are you crying?!" The scene spoke more truly to the idea of regret and nostalgia than I had anticipated, and it was a cathartic moment for both the character and the movie. At 13, I would never have found as troubling as I do now that the movie was less about romance or friendship as it was about the regrets you live with as an adult and are never able to take back. Of course, being a rom-com, 13 Going on 30 doesn't quite live up to that moment of profundity and offers an easy fix to Jenna's troubles, but it made me cry all the same.
Jacob Hall: The Apartment
No one in Hollywood history had a wit as sharp as the late, great Billy Wilder, but his comedy often felt like a defense mechanism. He often made you laugh to help prepare you for whatever was coming next. In the case of The Apartment, one of the finest American films ever made, every funny line and witty exchange is a buffer before he plunges a dagger into your heart. As the corporate punching bag who lets his superiors borrow his apartment for their various trysts, the legendary Jack Lemmon revealed himself to be the perfect sad clown – his every smile is a temporary distraction from his loneliness. As the elevator operator he falls for, Shirley MacLaine is one of the most complex characters in romantic comedy history, a deeply sad woman you can't help but fall for instantly. The set-up is pure screwball comedy and The Apartment is indeed very funny, but Wilder and his actors never forget that comedy is almost always the best way to battle pain. You laugh because crying would be a little too unbearable.
Ethan Anderton: Father of the Bride
Despite the fact that I don't have kids to contemplate sending off into the world as adults, the remake of Father of the Bride starring Steven Martin touches my heart in a very powerful way. Sure, it's a comedy that's saccharine and sentimental, but it's the genuinely moving performances from Martin, Diane Keaton and Kimberly Williams-Paisley that make it work so well for me (not to mention a lovely score by Alan Silvestri). More specifically, there's one particular sequence (seen above) that takes place the night before Steve Martin watches his daughter embark on the journey that is marriage. Even without my own offspring, this sequence still brings a swell of emotion as it provokes thoughts about my own life, about growing up, about leaving home, and it makes me want to cherish every moment I spend with my family.
Father of the Bride is the kind of movie that makes me long for the days when Steve Martin would make more meaningful movies like this or Planes, Trains and Automobiles (which also appears on this list). As he gets up there in the years, I wouldn't mind if he returned for a third movie in the Father of the Bride film series where his son (played by Kieran Culkin in the original films) gets married.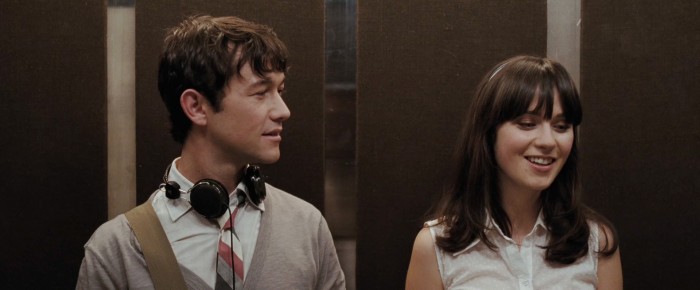 David Chen: (500) Days of Summer
Sure, this film has a lot of stylistic flourishes and soundtrack choices that will probably age poorly. But in my book, there are few films that capture the mindset of those who love someone and who aren't loved back as accurately as (500) Days of Summer. Towards the end of the film, Summer says to Tom, "I woke up one day and I knew...what I was never sure of with you." It's a simple sentiment, but it's one that the vast majority of us have endured. It's the climactic, heartbreaking moment in a film full of them.
Jack Giroux: Terms of Endearment
Terms of Endearment is a heartbreaking movie. In the last 30 minutes, the waterworks always flow for me, even in the small but grand scenes, like Garrett Breedlove's (Jack Nicholson) telling Aurora's grandkid he can come over to swim in his pool sometime. It's a significant moment for the character, and all he's doing is telling a kid he can use his pool. Even Nicholson's character finally growing gets to me.
It's an emotional and moving experience watching these characters over the years covered in James L. Brooks' feature directorial debut, but more often than not, it's funny. Terms of Endearment is a comedy, first and foremost. The laughs far outweigh the tears. I always can count on Garrett and Aurora's first date to make me laugh as hard as when I cry watching Emma (Debra Winger) and Flap's (Jeff Daniels) final conversation in the hospital.
Peter Sciretta: Good Will Hunting
I've never been a huge fan of broad comedy films, jokefests tied together loosely with a plot. When I'm watching stories on the big or small screen, I like my laughs to be rooted in a real emotional journey. Judd Apatow has made a career of making films that both make you laugh out loud yet still pull at your heartstrings and get you to care about the misfit characters at the center of his stories. I tend to lean more towards dramedies, more dramatic films that are also funny. I'm not exactly sure what my favorite comedy with tears would, but I know the ones that immediately come to mind are 50/50, Juno, Jerry Maguire, The Truman Show, or the upcoming film The Big Sick (which I fell in love with at Sundance).
But the film that I have the strongest connection to is probably Good Will Hunting. Ben Affleck and Matt Damon's Oscar-winning screenplay is both hilarious and moving. The late great Robin Williams delivers an exceptional performance which walks that tight rope between drama and comedy. And the film is set back near my hometown, in Boston, which brings some personal attachment. I don't think there has been a time when I've watched this film and haven't laughed out loud, even in an empty room by myself. And there has definitely never been a time where I have watched this film without getting emotional. This is a special film for me.
Christopher Stipp: Planes, Trains, and Automobiles
I'm usually not at a loss for words, but mixing comedy and strong emotions is not a combination that's easy to pull off.
Sure, you have what could forensically pass as comedy and tearjerker for any number of movies currently playing on the Hallmark Channel, but if we're talking mainstream fare that appeals to a wide swath of individuals, no other movie does it for me every single time like Planes, Trains & Automobiles. One of the keys that has made this such an enduring, emotional favorite of mine is just how well it earns its ending. The sweat equity that Steve Martin and John Candy put in to get the payoff as the cover for "Everytime You Go Away" blares as those to rubes make their way down the block holding Del's trunk pays off perfectly.
The movie begins not only with an adversarial conflict between these two guys but it just ratchets up the misery index to the point where you can completely understand when Steve Martin essentially breaks up with Del the first time. When Del then turns their rental car into a Weber Grill on wheels, and Martin leaves Del to sit in a snowy motel parking lot alone for the night, that emotional connection begins paying off. Those men sharing a slightly drunken conversation over some travel sized tequila and snack sized Doritos was the impetus for everything else that came after. They shared something bizarrely special and as Neal Page is taking a subway ride away from Del and he realizes what his trip, his life, Del's life, means, it just writes a sweet final paragraph to a story that was truly emotional all the way through.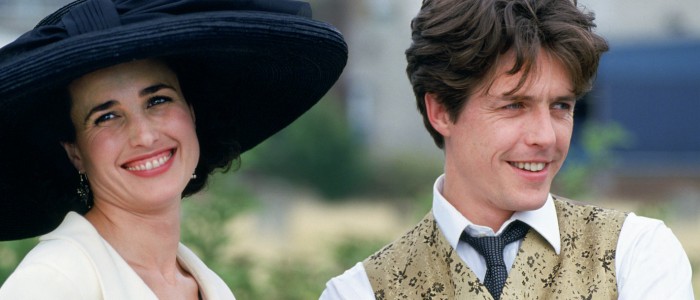 What do you think of our picks? What is your favorite comedy that also makes you cry? Talk about it in the comments below or email your personal answer (a paragraph or more) to slashfilmpitches@gmail.com with the subject title "Comedy That Makes Me Cry." Our favorite responses will be featured on the site in a future post!
And in case you missed any past editions of /Answers, here's a look back: