'Ready Player One' VR Content Will Bring Viewers Into The OASIS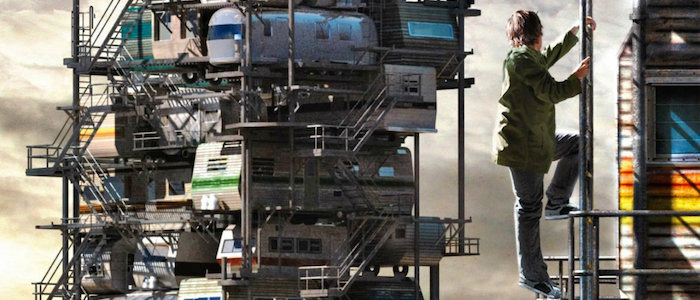 In Ernest Cline's Ready Player One, much of the world's population spends their time in a virtual reality world called the OASIS. The story's heroes, Wade Watts/Parzival (Tye Sheridan) and Samantha Evelyn Cook/Art3miss (Olivia Cooke), aren't living the highest quality of life in the real world, so they live and breathe the OASIS.
Naturally, ss a tie-in for the film about our dependency on technology, Warner Bros. is teaming up with HTC VIVE to create some VR content related to Steven Spielberg's Ready Player One.
Fans of Cline's novel will be able to access the content all over the world through Viveport, on PC based VR systems or mobile solutions. The details are vague on what VIVE's tie-in will involve, but it'll include the OASIS, which 60% of the film takes place in and Spielberg is depicting via motion-capture.
Viveport plans on showing off these VR experiences when they're ready at some point in 2018. The company's President, Rikard Steiber, says this collaboration with Warner Bros. will show "the transformative nature of VR":
Ready Player One is one of the most anticipated movies in the world, and has tremendous potential to engage and entertain the worldwide market, showcasing the transformative nature of VR, and what it can and will be. Vive is delivering on the promise of VR and continues to be the most advanced and immersive VR experience available to consumers, and we're thrilled to be partnering with Warner Bros. to bring these experiences to consumers, on all platforms, around the globe.
Blair Rich, President of Worldwide Marketing at Warner Bros., added:
The virtual reality world within Ready Player One is extremely advanced, sophisticated and engaging, and with Vive, we chose the best system to represent the future of VR. Vive is the perfect partner to bring that to life and also has the broadest reach to global markets for the use of VR in home, mobile and offline channels. We're delighted that HTC Vive will be partnering with Ready Player One and very excited to work with them leading up the movie's release in Spring 2018.
If HTC VIVE makes a faithful recreation of the OASIS, it'll probably be like nerd heaven for some folks. Set in 2044, this digital landscape is where a scavenger hunt is held to find the inheritance of the late James Halliday (Mark Rylance), the creator of the OASIS. The games often depend on the users' knowledge of the 1980s, when Halliday grew up.
This is quite a world, full of geeky references and iconic vehicles and weapons from pop culture. Hopefully, HTC VIVE can do Halliday's virtual environment justice. Ready Player One seems like an ideal film to promote with VR, even if it does feel a bit contradictory considering what Cline's entertaining story is about. If you want to experience the OASIS via virtual reality, it'll cost you around $800.
Ready Player One opens in theaters March 30, 2018.