'Akira' Director Reportedly Down To Two Front-Runners For Live-Action Adaptation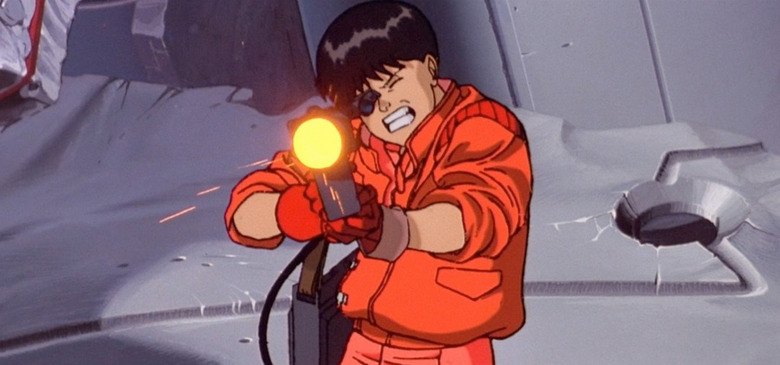 There are many cautionary tales of Hollywood's "development hell," but none perhaps quite as storied as the attempts to adapt a live-action adaptation of the groundbreaking anime classic, Akira.
Now Warner Bros. has appeared to narrow down their shortlist to two directors, one of which has just released a movie this weekend.
Warner Bros. has flirted with hiring multiple directors for the Hollywood adaptation of the cyberpunk anime, reportedly approaching everyone from Christopher Nolan, to Jaume Collet-Serra to Justin Lin. But in a recent episode of Meet the Movie Press (via The Playlist), Warner Bros. is rumored to be looking specifically at two directors: Daniel Espinosa, whose Life opened to mixed reactions this weekend (though we liked it), and David Sandberg, whose surprise horror hit Lights Out was a financial success for Warner Bros.
For those unfamiliar with the groundbreaking anime that still influences sci-fi films today, here's the synopsis of Katsuhiro Otomo's 1988 film:
Welcome to 21st-century neo-Tokyo, a vast metropolis built on the ashes of a Tokyo annihilated by an apocalyptic blast of unknown origin that triggered World War III. The lives of two streetwise teenage friends, Tetsuo and Kaneda, change forever when dormant paranormal abilities begin to waken in Tetsuo, who becomes a target for a shadowy government agency who will stop at nothing to prevent another catastrophe like that which leveled Tokyo. At the core of their motivation is a raw, all-consuming fear of an unthinkable, monstrous power known only as...Akira.
A Hollywood adaptation has been in development for years, with Leonardo DiCaprio attached as producer and Daredevil season 2 Marco J. Ramirez reportedly penning the script. However, with the movie languishing in development for so long, it's doubtful that Ramirez's script will be the final version we see — if we get to see Akira at all.
If made, Akira would be the latest entry in the current anime adaptation craze, with Ghost in the Shell hitting theaters March 31, and Netflix gearing up to release its Death Note movie adaptation in August. This despite the slew of controversies that have dogged these adaptations, particularly over the "whitewashing" of the stories by casting primarily white actors.
I'm of the opinion that Hollywood should just leave these stories be, as rooted as they are in Japanese culture and as critically and creatively successful as the original iterations were. But I know that Hollywood will always look to adapt their own versions of successful Asian films — not even Chan-wook Park's masterful Oldboy was immune to a mediocre Hollywood interpretation — despite the varying degrees of success. Outside of horror movies like The Ring or movies helmed by award-winning directors like Martin Scorsese (The Departed was based off of the 2002 South Korean thriller Infernal Affairs), Hollywood adaptations of Asian commodities rarely live up to the original, creatively or financially.
Akira and any future anime adaptations will likely depend on the success of Ghost in the Shell when it opens this weekend. But with little substantial news of DiCaprio's adaptation, don't expect to see Akira in theaters any time soon. Take it as a chance to watch the original.