Joseph Gordon-Levitt May Direct The Musical Comedy Starring Him And Channing Tatum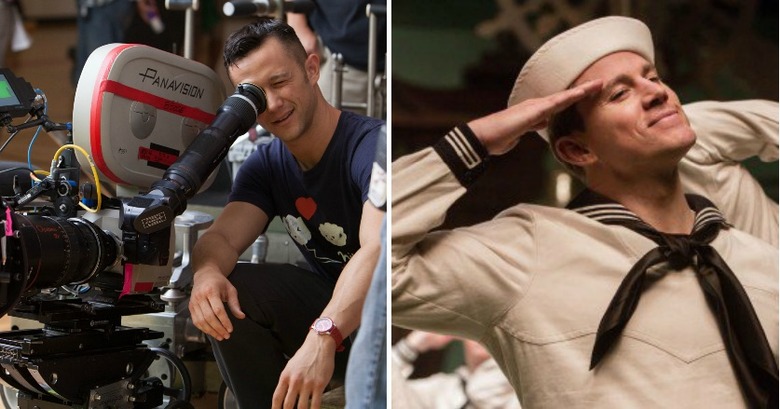 It seemed like a match made in movie heaven when it was announced last year that Joseph Gordon-Levitt and Channing Tatum were to headline the R-rated musical comedy, Wingmen, together.
Now, in addition to his dancing shoes, Gordon-Levitt may be donning the director's hat for the Universal movie in his second time directing since his feature film debut, Don Jon.
Gordon-Levitt is in talks to direct the Wingmen — described by Universal as "an R-rated musical comedy featuring two pilots on a misadventure" — according to Variety, but nothing has been confirmed yet. If he does sign on to direct, it would be his second time in the director's chair since 2013's Don Jon, which funnily enough, featured a cameo appearance from Tatum as the star of a movie-within-a-movie.
Tatum and Gordon-Levitt have co-starred numerous times before, in 2005's Havoc, 2008's Stop-Loss, and 2009's G.I. Joe: The Rise of Cobra. The two of them had even been looking into remaking Guys and Dolls together, though this upcoming comedy-musical seems like a worthy alternative.
Gordon-Levitt conceived of the idea for Wingmen alongside writer Michael Bacall (Scott Pilgrim vs. The World and 21 Jump Street), who will be writing the script. Marc Platt (Broadway's Wicked) and Adam Siegel will produce alongside Gordon-Levitt, Tatum, Reid Carolin and Peter Kiernan.
It's been a year since Tatum wowed us with his singing and tap dancing chops in Hail Caesar!, the Coen brothers' ode to cinema and classic Hollywood. Since his breakthrough role in Step Up, Tatum has built a reputation for being a talented dancer and a pretty face to boot, though we wouldn't be aware of his singing (and comedy) skills until the past few years, when he branched out into irreverent comedies like 21 Jump Street. But Tatum so easily stole the show in his brief but charismatic appearance in the Coen brothers film that many dubbed him "our generation's Gene Kelly" — tall, but deserved, praise. And let's face it: Magic Mike XXL also proved that to be true.
Gordon-Levitt is no slouch himself in the song-and-dance department.
The child star moved on from arthouse indie films to a romantic-comedy leading man, finally showing off his own secret singing and dancing chops in his uber-charming SNL hosting gig in 2009. His pitch-perfect recreation of "Make 'Em Laugh" from Singin' in the Rain is sadly not embeddable, but there are plenty of listicles out there gushing over his singing skills, as well as internet evidence of that brief moment in time when the world was obsessed with his relationship with Zooey Deschanel, and the two of them milked it for all it was worth.
Production for Wingmen isn't expected to start anytime soon, with Tatum about to begin shooting the Paramount action-thriller Triple Frontier opposite Tom Hardy, while his Gambit movie is still in the works. Gordon-Levitt was last seen in Oliver Stone's Snowden and is currently developing several projects, including Fraggle Rock, Sovereign, K Troop and In Sight.