'Animals' Season 2 Trailer: HBO's Bizarre Animated Series Returns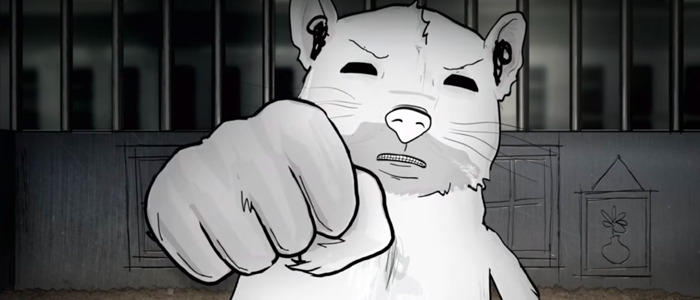 Animals is one of the strangest shows to hit the small screen in the past few years. It imagines what the creatures in and around New York City would do if they had recognizable human problems – insecurity, parenting issues, dealing with bullying, marital struggles, experimenting with drugs...the works. The show was also notable for its all-star cast, which included some of the best comedic actors in the industry.
HBO renewed it for a second season a few months ago, and now they're back with a new trailer that promises total anarchy in the weeks to come.Creators Phil Matarese and Mike Luciano are back with producers Jay and Mark Duplass for more animal insanity. Get a load of this:
As you can see, this is about as far from the fuzzy, family-friendly iteration of talking animated animals that we're familiar with from Disney movies.
My interest in the show's first season was initially piqued when I saw its stellar voice cast: Ben Schwartz, Matt Walsh, Nick Kroll, Kumail Nanijiani, Adam Scott, Jessica Chastain...and that's barely scratching the surface. Each episode contained a new collection of awesome actors, and this season, the cast is even more ridiculous.
Take a look at some of the people who will pop up in these new episodes: Emilia Clarke, Jason Alexander, Tony Hale, Ice-T, Usher, Michael Pitt, Whoopi Goldberg, Dan Harmon, Big Sean, Raven-Symone, Fred Armisen, Pauly Shore, Rachael Ray, and Jon Lovitz. I think that officially makes Animals season 2 the only worthy rival to David Lynch's Twin Peaks sequel for the title of Most Eclectic Cast on Television in 2017.
In addition to the wacky antics of NYC's birds, bugs, and mammals, the first season featured a running narrative in the background involving the corrupt mayor of New York killing a prostitute, dealing with blackmail attempts, covering up the death of an overdosed business partner, and attempting to frame his political rival by planting drugs on him. It was a fascinating through-line that rarely intersected with the mundane, humorous issues the city's animals were dealing with each week. In retrospect, tackling the story of a corrupt politician was pretty damn timely last year. I'm looking forward to seeing if Matarese and Luciano are going to tell a similar background story this season, or if they have something even crazier up their sleeves.
Animals season 2 premiered last week, and airs a new episode tonight on HBO. You can catch up on previous episodes through HBO Go or HBO Now.