What Is Hidden In This Intricate 'Transformers: The Last Knight' IMAX Poster?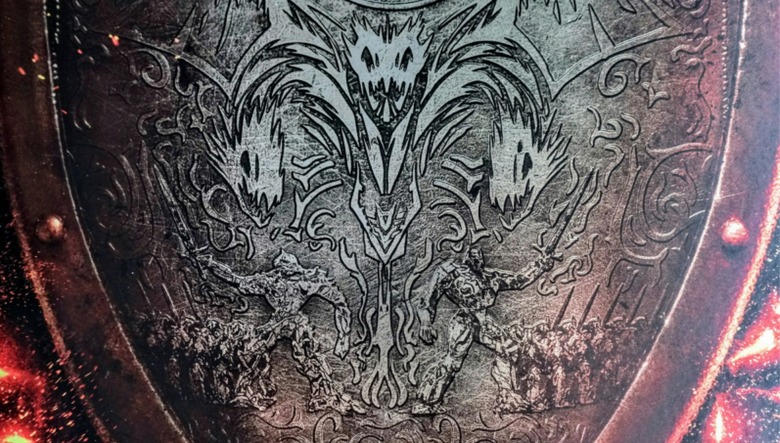 Paramount Pictures and Hasbro held a fan event for Transformers: The Last Knight on their studio lot, which treated fans to a behind-the-scenes looks at the upcoming Michael Bay sequel, a Paramount studio tour, an exhibit showcasing the film's car,s and more. Fans who attended the event were given an exclusive Transformers: The Last Knight IMAX poster that features a close-up of an intricately designed shield. What clues about the movie might be hidden in this design? Let's take a look.
The below photo of the Transformers: The Last Knight IMAX poster comes to us via TFW2005: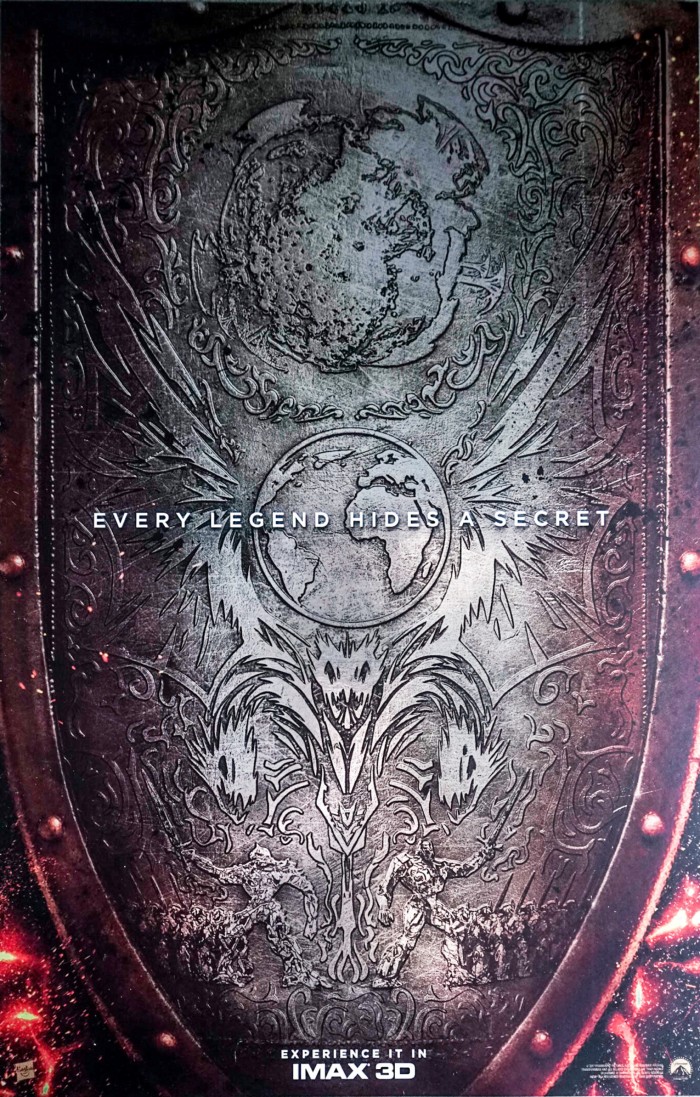 Like a lot of the Transformers franchise marketing, it's a beautifully crafted piece of art. We know that The Last Knight takes place a couple of years after the events of 2014's Transformers: Age of Extinction – Optimus Prime has left Earth and a battle for survival has commenced between the human race and the Transformers. Mark Wahlberg's Cade Yeager forms an alliance with Bumblebee, an English lord, and an Oxford professor to learn why the Transformers keep coming back to Earth (which is a pretty good question to be asking, really).
The last we saw Optimus Prime, he had blasted off into space with The Seed and planned to confront The Creators, who had basically put out a hit on the Autobot leader. What he discovers, what has happened to Cybertron, will send Optimus on a journey back to earth. We know this journey is, like all of the Transformers movies, tied to human historical events. The answer to many of these mysteries may lie within the Arthurian legend, hence the title The Last Knight, the Sword in Optimus Prime's hand in the trailers, and the stunning shield on this poster.
So what can we make out in this poster?
The planet being destroyed at the top could represent the arrival of Unicron, or possibly a prophecy of Cybertron coming towards Earth (as we have seen in the trailers). The poster says that "every legend hides a secret" and the trailers have hinted that there is a reason why the Transformers have kept coming back to Earth over the centuries of time.
The bottom appears to show two Transformers with swords leading an army. Is this another prophecy of Transformers coming together to defend Earth?
Behind the Transformers we can see Dragonstorm, a Cybertronian Knight who transforms into a mechanical three-headed dragon.
Notice anything we may have missed? Leave your thoughts in the comments below!