'Clueless' Comic Book Series Coming From Boom! Studios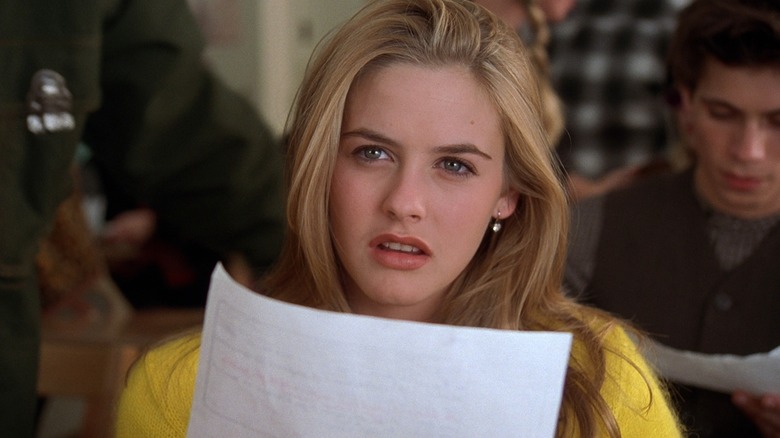 Cherilyn "Cher" Horowitz (Alicia Silverstone) will return to Clueless fans in comic book form. Amber Benson (Buffy the Vampire Slayer) and Sarah Kuhn (Heroine Complex) are writing a Clueless comic, based on Amy Heckerling's classic 1995 comedy, which was based on Jane Austen's Emma. Staying true to the film, the comic will take place in Bronson Alcott High School and follow Cher and her two best friends, Dionne Davenport (Stacey Dash) and Tai Frasier (Brittany Murphy), as they go through their senior year.
Below, learn more about the Clueless comic.
BOOM! Studios aren't trying to sell readers a new, modern take on Clueless. Benson and Kuhn are keeping the characters in the '90s, where they belong. In fact, they've done their research to keep the comic as authentic as the almost 22-year-old movie, which Bill Pope (The Matrix) shot. While discussing the comic, which Siobhan Keenan is illustrating and Natacha Bustos is working on the cover art for, with Vanity Fair, Benson and Kuhn told the outlet about the research they did to capture film's particular time, setting, language:
Benson: The hardest part of working on the project for me has been trying to make everybody sound authentic without being trite. And we're really, really lucky—we have an amazing editor in Shannon [Watters], who sent us this U.C.L.A. slang book that has all of this amazing 90s slang in it. I use that like a bible, and I can recite it verbatim now. I think Sarah and I had some sort of struggle with this, trying to make it sound real and not like a cartoonish version of the 90s.
Kuhn: One of the things people love about Clueless is its really distinctive voice. There are these key catchphrases people remember from that movie, and I think it would be very boring to write a follow-up to Clueless and just keep going to those same five phrases over and over again. This paper Shannon sent us is actually from the U.C.L.A. linguistics department and tracks all these terms that I guess "the kids" were using back then.
The comic book writers are big fans of the film. As a matter of fact, when director Heckerling was casting the project, which had an appropriate but lesser working title, As If, Benson auditioned for the role of Tai. She's thrilled to now get to write in that world. Even when she auditioned, she'd knew the story of Clueless would make a great film if they got it right, which they did, so now all these years later fans can spend more time with Cher – a flawed, relatable, and almost overwhelmingly radiant character – in comic book pages. Benson and Kuhn's story focuses on her senior year at Bronson Alcott High when she and her friends aren't too confident about what the future holds for them.