'12 Monkeys' Renewed For A Fourth And Final Season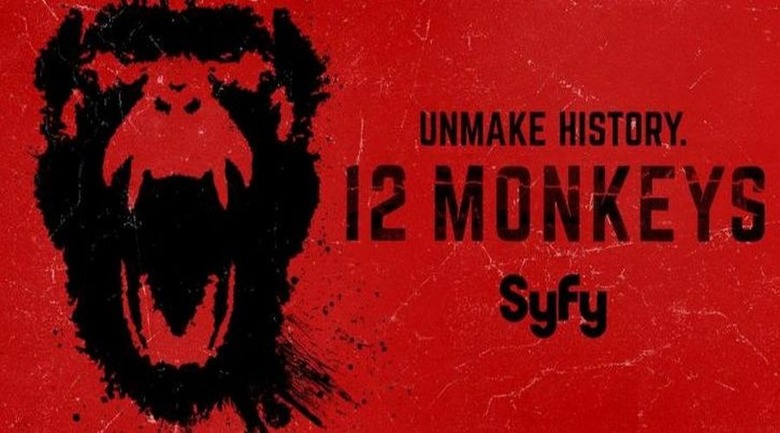 Syfy has ordered the fourth and final season of 12 Monkeys, based on the Terry Gilliam film (which itself was based on the short film, La Jetée). While an earlier plan was for the series to last five seasons, it'll wrap up a little sooner than intended. With the ending, the plan is to journey back to the beginning.
Below, learn more about the 12 Monkeys final season.
12 Monkeys returns for its third season in May, with Syfy is airing all 10 episodes over three consecutive nights, starting with the first four episodes on Friday, May 19. That means 12 Monkeys fans now have a comfy weekend of binge-watching to anticipate. The series, like Gilliam's film, is about a time traveler (Aaron Stanford) and a virologist (Amanda Schull) working together to save the future. Their mission is to find the source of a plague that will wipe out most of humanity.
In a statement, Chris McCumber, President of Entertainment Networks at NBCUniversal Cable Entertainment, explained why they're going with an unconventional release for season three:
With its time-twisting themes and edge-of-your-seat storyline, 12 Monkeys is the perfect show to air this way. It's grown into a world well beyond the original film, and after seeing the creative strength of Season 3, we couldn't wait to pick it up for a fourth season.
Early on, the show veered off into a different direction from Gilliam's film and developed its own vision, gaining quite a few passionate fans during its first two seasons. Throughout its first 20 episodes, the series scored good marks from critics and viewers, and more than a few times I've been told I need to watch the series, which was co-created by showrunners Terry Matalas and Travis Fickett.
We already have some idea of where the fourth and final season will go. Like La Jetée, producer Natalie Chaidez told us 12 Monkeys would circle back to where it began:
Yes, there is definitely a big plan. I think [series co-creator] Terry [Matalas] has said it publicly in interviews, I know he's said it privately to me, that he and [co-creator] Travis [Ficket] knew the way that the series was going to end when they pitched the pilot. It will indeed circle back when the show finishes in season five hopefully, Syfy willing.
In regards to what's next for James Cole and Dr. Cassandra Railly in season three, they're searching for a time traveler known as the Witness. By killing this mystery man, Cole and Railly may save the world. They'll journey through time to find him, and they'll meet some interesting characters along the way, including Christopher Lloyd as a dangerous leader of a cult.
12 Monkeys returns for season three on May 19, 2017. The fourth an final season does not have an air date yet.