'A Family Man' Trailer: Gerard Butler Isn't An Action Hero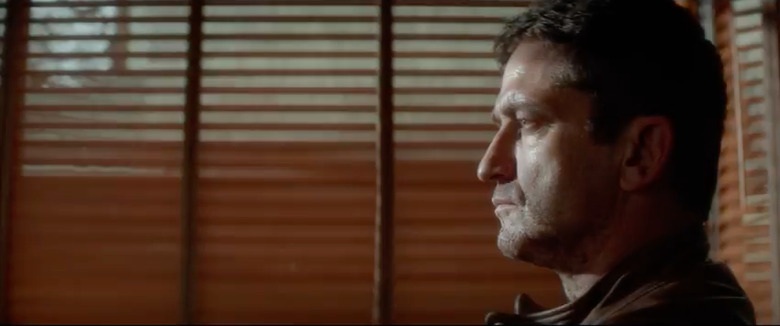 We've seen Gerard Butler save the President twice, play a God, and soon we may even witness him discover a way to defeat a Geostorm in this year's Geostorm. Butler is typically a powerful, bone-breaking presence on the big screen, but he isn't playing an action hero in A Family Man. In the drama, which co-stars Alison Brie, Willem Dafoe and Alfred Molina, Butler is a success hungry headhunter in Chicago who has trouble balancing his work and family life, until everything changes.
Below, watch A Family Man trailer.
It looks like Butler is going back to his Dear Frankie days. Since his breakout starring role in 300, Butler has established himself as an entertaining action star. He can deliver cheesy one-liners with commitment and then convincingly take out a room for of goons. But he can also play sensitive and tender characters when given the opportunity. A Family Man is a role where he could show that side of himself.
Butler plays Dane Jensen in the drama. He's a worker first, family man second, but after he learns his son has cancer, he begins to see, as most fathers do in these sorts of stories, what's important. Here's A Family Man trailer, which starts with the obvious kind of quick cutting expected in a depiction of a fast-paced, cutthroat, big city work environment:
Trailers for dramas tend to show too much. That's the case with the trailer for A Family Man, which seems to lay out all the major character and story points in the trailer. Audiences tend to know where this sort of story is going, but still, the first look at producer Mark Williams' (The Accountant) directorial debut, which Bill Dubuque (The Accountant) wrote, doesn't seem to hold anything back.
Here's the synopsis:
Dane Jensen (Gerard Butler) is a hard-driven Chicago-based headhunter, working at a cut-throat job placement firm. When Dane's boss (Willem Dafoe) announces his retirement, he pits Dane against Lynn Vogel (Alison Brie), Dane's equally driven, but polar opposite rival at the firm, in a battle for control of the company.
As Dane gears up for the professional battle of his life, he learns his 10-year-old son, Ryan (Max Jenkins), is diagnosed with cancer. Suddenly, Dane is pulled between achieving his professional dream and spending time with his wife (Gretchen Mol) and Ryan, who need him now more than ever.
A Family Man is available on DirecTV in May.