Dwayne Johnson Will Battle A Fire In Next Summer's 'Skyscraper'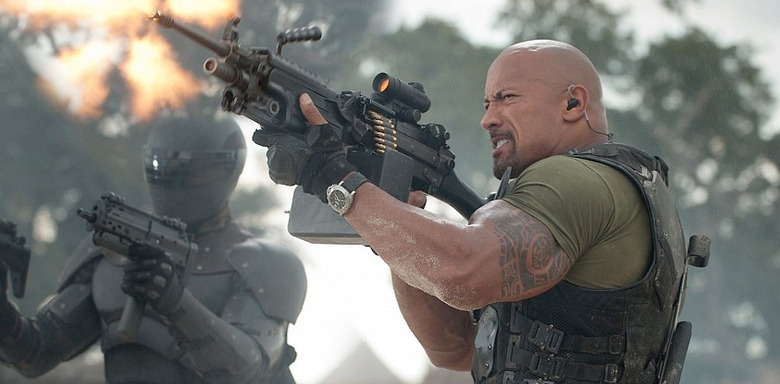 On a particularly hot summer day, seeing a new disaster pic starring Dwayne Johnson doesn't sound like such a bad plan. Next summer, you'll have the chance to see Johnson take on a towering inferno in Skyscraper. He's reuniting with Central Intelligence director, Rawson Marshall Thurber, for Paramount's disaster pic, which comes out July 13, 2018.
Below, learn more about the Dwayne Johnson Skyscraper movie.
Johnson and his production company, Seven Bucks Productions, have been working on Skyscraper for two years now. The movie takes place in China, where the box-office is booming and where a man's (Johnson) family is trapped on the top floor of a mega-skyscraper on fire.
When the project was announced last May, it drew comparisons to Die Hard and Towering Inferno. The story is based on an original idea by Thurber, who's also writing the script. Beau Flynn, who produced Journey 2: The Mysterious Island, San Andreas, and Baywatch, is behind Skyscraper.
Johnson, whose work ethic never ceases to impress, shared the release date and more information about the film on Instagram:
BREAKING: Grateful to share this big news. Universal Studios and @Legendary Pictures have declared JULY 13th 2018 SKYSCRAPER weekend. Massive scale of a movie we've been developing for almost two years and we start shooting this August – in CHINA. Our script, written and to be directed by Rawson Thurber, focuses on the world's largest skyscraper – that's on fire. A towering inferno almost a mile into the sky and my wife and kids are trapped on the top floor. My character is a disabled US War Vet and former FBI Hostage Rescue Team leader. This character is inspired by the thousands of disabled US veterans and war heroes I've had the honor of shaking hands with over the years. This character is also an homage to the every day man and woman who, despite all odds, will dig deep and do everything possible to protect and save their family. Research for this film has been a real education for me (and that's saying a lot considering my horrible freshman year GPA) from meeting with the world's top skyscraper architects to spending amazing time with our US combat and disabled vets. Good thing I'm not afraid of heights. But at 4,000ft it's a different story. Let's get to work. #CHINA #SevenBucksProds #FlynnPicturesCo #Zhao #SKYSCRAPER JULY 13th 2018
If there's one actor audiences want to witness saving the day in a large-scale disaster movie, it's Johnson. His last disaster pic, San Andreas, isn't one of his more enjoyable films but it was another one of his global box-office hits. Johnson is about as audience-friendly as an actor can get, which is a part of why we love him so: he's a dedicated crowd-pleaser.
The last time the actor worked with Thurber audiences showed up at the theater, to see him give a funny, delightfully goofy performance in Central Intelligence. Thurber played with Johnson's image in that film to good comedic effect. Perhaps he can show us another side of Johnson in Skyscraper as well.
Skyscraper opens in theaters July 13, 2018.