Heinz Ketchup Wises Up And Runs Don Draper's 'Pass The Heinz' Campaign From 'Mad Men'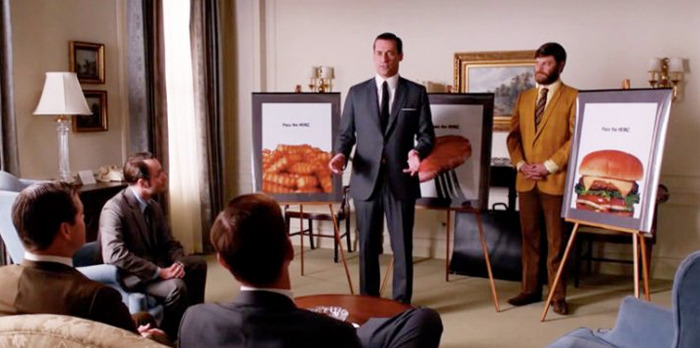 Throughout Mad Men's seven tremendous years on AMC, Don Draper and his associates pitched more than a few bright ideas to potential clients. Some of them were quite good, including the campaign Sterling Cooper Draper Pryce pitched to the Heinz company. In the episode, season six's "To Have and to Hold," Don said three simple words: "Pass the Heinz." Years after passing on the slogan, Heinz is officially using it.
Below, check out Don Draper's Mad Men Heinz ads.
Draper's idea was shot down by Heinz in the episode. They couldn't wrap their heads around the bigger picture and understand why the photos don't show the Heinz Bottle. To Draper, the ads are "clean, "simple," and "incomplete," and the consumer will immediately know and think about what's missing — ketchup.
Adweek has a story on how the once fictional advertisements became real. Mad Men creator Matthew Weiner, who's now working on an Amazon series, approved the ads himself. He's included in the credits along with Draper, Sterling Cooper Draper Pryce, and Heinz's real ad agency, David Miami.
Expect to see these photos on billboards in New York, in the New York Post and Variety, and on Heinz's social media accounts:
The head of the Heinz brand, Nicole Kulwicki, explained why Draper's idea is timeless:
Even though Don Draper created the 'Pass the Heinz' campaign almost 50 years ago, the communications still really work in today's world. Mr. Draper really understood the one thing every Heinz fan knows, which is to never settle for the foods you love without the great taste of Heinz. What we loved about the campaign is that it doesn't require paragraphs of copy to explain it. It features mouthwatering food images, and all that's missing is the Heinz.
David Miami re-created the images from the show. They did a photoshoot and tried to make the ads the same. According to David Miami's chief creative officer, Anselmo Ramos, it was a "a beautiful challenge." Ramos, like the head of the Heinz brand, also credits Draper.
It's so simple. Don did a great job. This is just 100 percent on-brand positioning. It is about never settling. You look at these beautiful shots of empty fries, or a burger, and there's something missing. And when you say 'Pass the Heinz,' that's all you need to say. You don't need to show the product.
The people at Heinz and David Miami are clearly having fun with bringing Draper's idea to life. Any Mad Men fan, especially employed by an ad agency, would probably be delighted by the prospect of this job. To Ramos, it's a great nod to Mad Men, but it's also an idea she believes "makes sense for this brand." You don't have to be a fan of one of the 21st Century's great dramas to receive the ad's message loud and clear.