'Mr. Robot' Season 3 Premiere Date Announced; Bobby Cannavale Joins Cast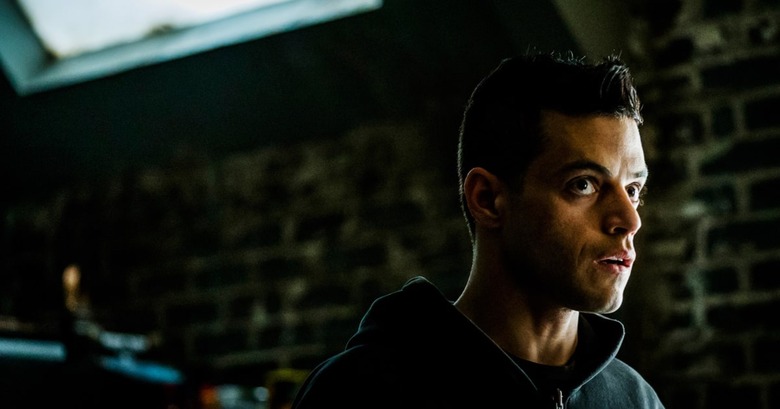 Last year season two of Mr. Robot appeared more divisive than season one. After the popularity of its first season, though, it's natural Sam Esmail's USA drama wouldn't match everyone's expectations. Plus, the twist midway through season two was destined to polarize. Whether the reveal ended up working or not can be debated, but it was still one of the many bold choices made with season two.
USA Network has announced a Mr. Robot season 3 premiere date: the series returns for its third season this October. Below, learn more about Mr. Robot season 3 and who just got promoted to a series regular.
According to Variety, Mr. Robot isn't airing over the summer as its first two seasons did. Like season two, though, Esmail is directing every episode. Instead of directing 12 episodes this time around, he'll be directing ten. Returning for season three are Rami Malek as Elliot, Christian Slater as Mr. Robot, Carly Chaikin as Darlene, Portia Doubleday as Angela, Martin Wallström and Stephanie Corneliussen as Tyrell and Joanna Wellick, and Grace Gummer as Dominique 'Dom' Dipierro.
BD Wong is back with a larger role to play as the Zheng/Whiterose, a transgender hacker who's the Chinese Minister of State Security and a member of the Dark Army Hacker group. Joining Wong in the series is Cannavale, who gave great performances in Boardwalk Empire and Win Win. He's playing a tough used car salesman named Irving. There's no information on how the character figures into Elliot's journey.
NBCUniversal Cable Entertainment's chief content officer, Jeff Wachtel, believes season three of the series will "engage viewers in a whole new way":
Season 3 of Mr. Robot will engage viewers in a whole new way, with Sam and team continuing to find ways to surprise, challenge and delight the audience. And adding Bobby Cannavale and BD Wong to our cast makes one of the tightest acting ensembles even stronger.
And Chris McCumber, President of Entertainment Networks for NBCUniversal Cable Entertainment, is looking forward to Esmail tackling more timely issues with the drama:
Sam Esmail is a true creative visionary who continues to deliver a series that boldly tackles timely issues and leans into the major headlines of the day. We're eager to share the next phase of Elliot's journey with fans this fall.
Esmail hasn't revealed many details about the future of Mr. Robot, but he's teased where the show is going next. "The third season is really that next stage," the show's writer and executive producer said. "The word I would use is disintegration. What does it look like now that these two are completely not on the same page, that they are completely split and truly split apart? What does that look like? That's the next chapter of Elliot's journey." The next chapter is part three of a story Esmail sees lasting five seasons.
Mr. Robot season three premieres this October.