'Taboo' Season 2 Ordered By BBC And FX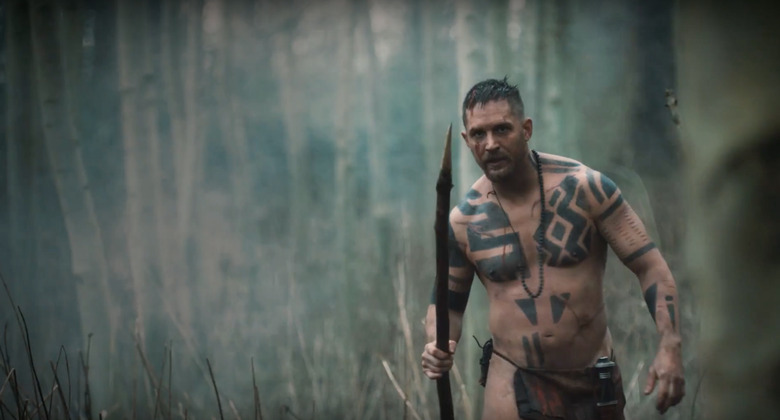 James Delaney (Tom Hardy) is a man you'd want to stay far, far way from. He knows he's vile and isn't right in the head, but sometimes he's a loon that makes more sense than a viewer would expect. Delaney is a tough, violent, and nasty man, but sometimes no nastier than the world he wakes up to every day. In Taboo season 2, which has been officially announced he'll bring his compelling madness to a new world.
Below, learn more about Taboo season two.
Before the news of this renewal even arrived, co-creators Steven Knight and Hardy said there'd be a second season of Taboo. Without spoiling anything major, as I'm still catching up on season one, season two is taking Delaney to another setting. The world Knight carefully took time establishing – London, 1814 – will be in Delaney's rearview come 2018 when the show returns for eight more episodes on BBC and FX.
Knight has previously said he could see Taboo lasting two or three seasons. The finale ended with Delaney and some surviving characters on a ship, with an American flag, heading towards Ponta Delgada in the Azores. Knight wouldn't tell EW whether that is the next season's setting:
I think we don't talk about that [Laughs]. In my mind, explosive stuff is going to happen, which will be great, should it happen. There's a great destination for it, but I don't know if we're in a position to talk about the actual details of it.
The writer added:
In my forward thinking view of what this will be, I always thought we're headed west. It's a ship of fools, it's a ship full of the damned, who are leaving the Old World and headed to a New World. They've almost self-selected because they are people who don't fit in — they are rebels, people for whom that society doesn't work, hence the line at the end, "We are Americans."
Taboo averaged 1.24 million viewers on FX, while 5.8 million people on average would watch each episode within seven days on the BBC. The reviews were mostly enthusiastic, with plenty of praise for Tom Hardy's performance. I've yet to see where he goes with the character in the last half of the season, but he's riveting to watch as Delaney in the first couple episodes. He's an unpredictable character, someone who can't be reasoned with, pushed or threatened. The first few episodes of Taboo are a battle of wits between this madman and the East India Trading Company that makes you wonder, "How on Earth do you defeat a character as cunning and as nuts as Delaney?" It's a dark, violent, and unpleasant story, but waiting to see what Hardy's character does and says next on Taboo is hugely entertaining.
Here's the synopsis for Taboo season one:
Set in 1814, Taboo follows James Keziah Delaney, a man who has been to the ends of the earth and comes back irrevocably changed. Believed to be long dead, he returns home to London from Africa to inherit what is left of his father's shipping empire and rebuild a life for himself. But his father's legacy is a poisoned chalice, and with enemies lurking in every dark corner, James must navigate increasingly complex territories to avoid his own death sentence. Encircled by conspiracy, murder and betrayal, a dark family mystery unfolds in a combustible tale of love and treachery.