First 'Star Wars: The Last Jedi' Footage Reveals Episode 8 Opening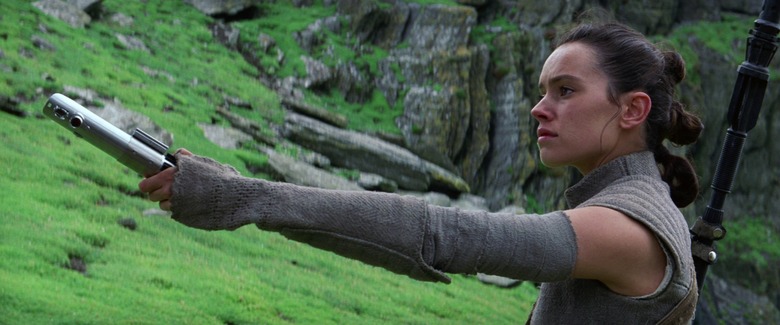 The general public likely won't see the first footage from Star Wars: The Last Jedi until Star Wars Celebration next month in Orlando, but Disney Shareholders were given a sneak peek on Wednesday during the Disney shareholder meeting in Denver, Colorado. The footage appears to reveal the Episode 8 opening. Find out what was shown, after the jump.
According to Los Angeles Times reporter Daniel Miller, the footage started out as a joke, showing Rey physically handing Luke the lightsaber before cutting away just as he is about to take it, as if that was the only thing the shareholders were going to be shown. But then Disney CEO Bob Iger continued to show them a bit more: Luke Skywalker spoke to Rey, which may very well be the first line of Rian Johnson's Star Wars movie. Here are the details:
"Star Wars: The Last Jedi" clip is being screened. But it's a joke, sort of! We just got a few seconds of Rey handing Luke a lightsaber.

— Daniel Miller (@DanielNMiller) March 8, 2017
We just saw more "Star Wars: The Last Jedi" footage. In it, Luke asks Rey, "Who are you?" Then we see her deftly handle a lightsaber.

— Daniel Miller (@DanielNMiller) March 8, 2017
Also making appearances in "The Last Jedi" footage: Chewbacca, General Leia Organa and Finn.

— Daniel Miller (@DanielNMiller) March 8, 2017
One last thing on the "Last Jedi" footage: We saw all sorts of settings — mountains, oceans, forests, deserts. Look suitably epic, exotic.

— Daniel Miller (@DanielNMiller) March 8, 2017
More on "The Last Jedi" clip, since ppl are asking: General Leia Organa was onscreen for just a second in military garb and didn't speak.

— Daniel Miller (@DanielNMiller) March 8, 2017
In other news @DanielNMiller just told me that Finn's eyes were open in The Last Jedi clip, so EVERYONE FREAK OUT.

— Meredith Woerner (@MdellW) March 8, 2017
So it appears that the first like of Star Wars: The Last Jedi is Luke asking Rey, "Who are you?"
The fact that Luke Skywalker (Mark Hamill) doesn't appear to know who Rey (Daisy Ridley) is should shut down many fan theories that she is Luke's child. Also, it makes me wonder how a Jedi master wouldn't feel her presence with the Force. I mean, Supreme Leader Snoke and Kylo Ren seemed to know something about the girl's existence before encountering her in The Force Awakens.
Another theory has suggested that Rey was part of Luke Skywalker's last Jedi Academy, the same one that Ben Solo betrayed. But if she was, wouldn't Luke have some recognition of his former padawan?
Either way, the fact that Luke Skywalker is asking the question we've all been asking for the last 18 months might be very telling of what to expect from Johnson's eighth installment of the Skywalker saga. Posing the question at the beginning of this movie appears to be a very decisive move.
A /Film reader points out that the screenplay for Star Wars: The Force Awakens suggests that Luke Skywalker knows who Rey is and knows why she has come to find him:
Hmmmm pic.twitter.com/8KrrNhxKKx

— John DeMayo (@JohnnyDeMayo) March 8, 2017
Is it possible that Luke is pretending not to know Rey? Or is it simply that the screenplay for Force Awakens was written before Rian Johnson finished the screenplay for his follow-up chapter, and Pablo Hidalgo has said that screenplay description is "canon" unless a future movie contradicts it. For instance, in the Return of the Jedi screenplay, Uncle Owen was Obi-Wan's brother.
I wish we could learn more about the montage of footage previewed during the Disney shareholder event, but I don't see any other reports about it online anywhere. We'll keep you posted.