'Fargo' Season Three Promo: Carrie Coon, Ewan McGregor, And Mary Elizabeth Winstead Just Chilling At The Diner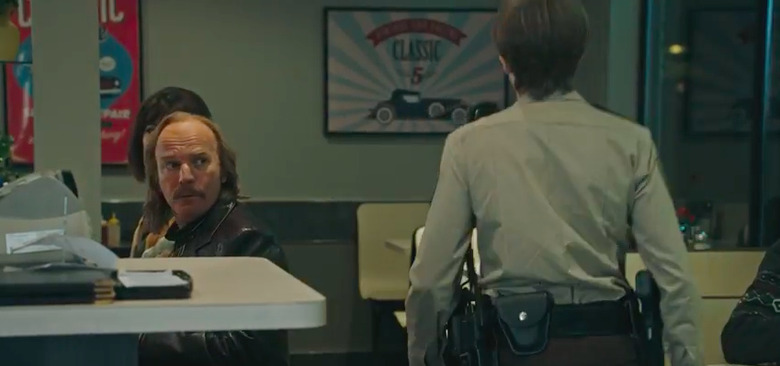 We don't need to see much footage to convince us to check out season three of Fargo. At the end of the day, all we really need are Fargo commercials with air conditioners running and an inflatable Santa Claus deflating to get us excited about the return of Noah Hawley's series, which takes the basic premise of the Coen brothers' classic film and sprints with it. These short, atmospheric commercials tell us what we need to know: the show is back on April 19, 2017.
The latest ad gives us a first look at Ewan McGregor, Mary Elizabeth Winstead, and Carrie Coon, all newcomers to this anthology series. The three of them are dressed appropriately, having the sort of distinct presence characters tend to have on Fargo. However, it's McGregor's look that will turn the most heads.
The promo aired on FX last night during the premiere of Feud: Bette and Joan, which is enjoyable  enough (and far from subtle so far). The 30-second ad introduces FX's viewers to Gloria Bungle (Coon), Ray Stussy (McGregor), and Nikki Swango (Winstead).
Gloria is the chief of the police department and a recent divorcee. She's left cold by people more interested in their phones than actually living their lives, hence why her son's eyes are glued to his phone at the table. Stussy and Swango are a couple, but Swango appears as the more crafty of the two. She's a recent parolee who's killer at a game of bridge, while Stussy, her parole officer, feels like a failure lost in his successful brother's shadow. Of course, McGregor also plays that brother.
The costumes on this show are always fantastic and really do help define who these people are. Costume designer Carol Case, who also works on Hawley's Legion, helped to make all of Fargo's massive ensemble pop over the first two seasons and she has never had the characters on this show wearing something the audience will forget. This looks to continue in season 3 – look at Ray Stussy, dressed like a real cautionary tale. The unfortunate combo of his leather jacket and striped shirt imply he's not a man with fine taste, nor a man with much good fortune.
Here's the official synopsis for Fargo season three:
Set in 2010, the third installment of Fargo centers on Emmit and his slightly younger brother Ray Stussy (Ewan McGregor). Emmit, the Parking Lot King of Minnesota, sees himself as an American success story, whereas Ray is more of a cautionary tale. Forever living in his more successful brother's shadow, Ray is a balding and pot-bellied parole officer with a huge chip on his shoulder about the hand he's been dealt – and he blames his brother. Their sibling rivalry follows a twisted path that begins with petty theft but soon leads to murder, mobsters and cut-throat competitive bridge.
Carrie Coon stars as Gloria Burgle, the steady chief of the local police department. A newly divorced mother, Gloria is trying to understand the new world around her, where people connect more intimately with their phones than with the people around them. Mary Elizabeth Winstead stars as Ray's girlfriend, Nikki Swango, a crafty and alluring recent parolee with a passion for competitive bridge. David Thewlis stars as V.M. Vargas, a mysterious loner and true capitalist whose bosses plan to partner with Emmit, whether The Parking Lot King likes it or not.
Fargo returns on Wednesday, April 19, 2017.