'Beauty And The Beast' Reactions & Review: Can A Tale As Old As Time Find New Life?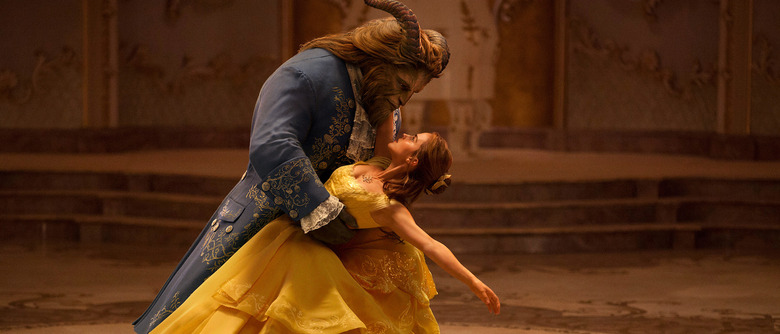 Disney's live-action-remake obsession continues this month with Beauty and the Beast, and it might be one of the trickiest adaptations they've tackled so far. Oh, sure, it's an easy sell: the 1991 animated feature is one of the most beloved films in the studio's catalogue, and nostalgia alone would've been enough to get some butts in seats. But on the other hand, how do you live up to near perfection? What's the point in redoing something that good? How do you make a movie that satisfies fans of the original, while adding enough of a twist to justify redoing it in the first place?
We don't have all the answers — if we did, we'd be running Disney, not blogging for /Film — but the first reactions to the first screenings offer some clues as to how the studio tried to address these challenges. See the first Beauty and the Beast reactions below, as well as our own brief Beauty and the Beast review. 
Both Peter Sciretta and I saw Beauty and the Beast last night, and had our own thoughts on it.
Beauty and the Beast feels much longer than the animated film. The production and costume design are exquisite. Josh Gad steals the show.

— /Film (@slashfilm) March 3, 2017
one way that #BeautyAndTheBeast is faithful to the original is that Beast's human form is still extremely disappointing

— Angie J. Han (@ajhan) March 3, 2017
Of course, we weren't the only ones. Lots of other critics weighed in. Many of them loved Beauty and the Beast, or at least thought it'd be satisfying to fans of the original.
Disney's live-action Beauty and the Beast is entertaining and enchanting, particularly the musical numbers. As a Disney fan, I loved it.

— Kelly W. (@kellywestbrick) March 3, 2017
Beauty and the Beast did everything it needed to do to make fans of the original happy and enchant a new audience. Going to make crazy money

— Steven Weintraub (@colliderfrosty) March 3, 2017
Disney fans will definitely love Beauty And The Beast. A super loyal adaptation, and visually gorgeous.

— Eric Eisenberg (@eeisenberg) March 3, 2017
Luke Evans, Josh Gad and Kevin Kline were the MVPs of the live action Beauty and the Beast for me. Disney fans will be really happy.

— Eric Vespe (@EricVespe) March 3, 2017
Beauty and the Beast is SO GREAT. True to the original with lovely additions; Luke Evans is MVP. I'm still grinning thinking about it. 🥀

— Crystal Bell (@crystalbell) March 3, 2017
Others were more measured in their praise, while still others were kind of mixed.
Beauty and the Beast has its problems–too slavish to the original, Emma Watson can't sing particularly well–but dammit, I enjoyed it.

— Rebecca Pahle (@RebeccaPahle) March 3, 2017
BEAUTY AND THE BEAST is gorgeous fun, a delightful remake. But the creepy Stockholm issues become WAY worse when it's humans, not animation.

— Rachel Simon (@Rachel_Simon) March 3, 2017
The new #BeautyAndTheBeast has a great cast and great production design, but man... it does NOT work. Every new element makes it a mess.

— William Bibbiani (@WilliamBibbiani) March 3, 2017
One frequent theme was high praise for Luke Evans and Josh Gad as Gaston and LeFou.
I just went through a rollercoaster of emotions watching #BeautyAndTheBeast & I'm still processing, but: Luke Evans steals the goddamn show. pic.twitter.com/o030YDwdQ9

— Rachel Heine ✨ (@RachelHeine) March 3, 2017
Though as some pointed out, Disney's promises of an "exclusively gay moment" may have been a bit overblown.
Beauty and the Beast: Luke Evans & Josh Gad are GREAT. But Disney saying LeFou is gay is cheap because he's still coded, they get 👏for nada.

— Brian Formo (@BrianFormo) March 3, 2017
***
There's still magic to be found in Beauty and the Beast. It's hard not to be charmed by that opening number, "Belle," or amused by the Greek chorus made up of household objects that used to be people. And from time to time, Bill Condon's remake even comes close to recapturing the wonder and majesty of the 1991 film. In particular, "Gaston" is a delight from start to finish, improving on the original with irresistibly energetic bar choreography. While Luke Evans may not be able to match the exaggerated brawn of his animated predecessor, he more than makes up for it in cartoonish bravado, and Josh Gad brings some welcome depth to Gaston's sycophantic BFF LeFou.
But as all the allusions to the original suggest, Condon's Beauty and the Beast never quite manages to transcend its status as a remake. The new version runs a whopping 45 minutes longer than the old one did, but most of the extra material feels like just that — extra material. There are half-hearted attempts to fill in some of the fridge logic of the original (like: why would the witch enchant the servants as well as the Beast, when they did nothing wrong?) and some half-baked new backstory for the primary players. There are new musical numbers that fade from memory the moment they end, and new household servant characters that are just kind of... there. Meanwhile, the couple at the center of the story, played by Emma Watson and Dan Stevens, fail to add anything new to the archetypes we already know so well.
If all you want is a chance to see some of the iconic Beauty and the Beast moments redone in live action, this film will scratch that itch. (Just try not to expect too much from that ballroom dance centerpiece, which is a big fat nothing here.) But if you've come here in search of something fresh — something more akin to Disney's live-action Cinderella, which made that ancient tale feel vital again – you may come away slightly disappointed.
***
Beauty and the Beast is in theaters March 17.