First Look: Aquaman Goes Underwater In 'Justice League'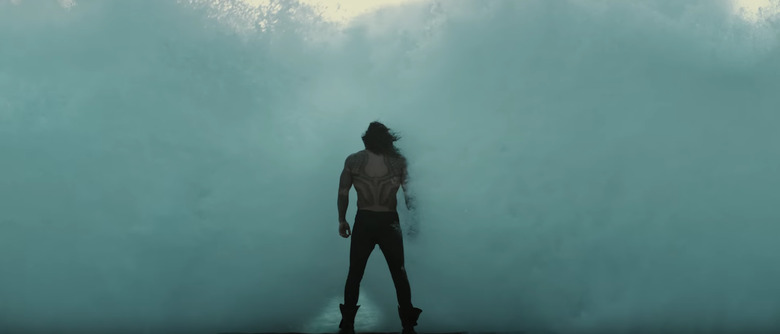 The first Justice League trailer showed Aquaman strutting around on land, tussling with Batman and trying his best to stay hydrated. But he really belongs to the sea, and now we've got our first halfway decent look at the underwater kingdom he calls home. Director Zack Snyder has shared a brief snippet of footage showing Jason Momoa swimming around underwater, offering a much better idea of what he'll look like in action. Plus, Gal Gadot has posted a new photo of Wonder Woman from the set. 
Snyder shared the Justice League Aquaman footage. (Although Snyder doesn't say which film this is from, James Wan's Aquaman hasn't started shooting so it's a safe bet this is Justice League we're looking at.) In it, we see Momoa swim up to a man seated on a throne — perhaps Willem Dafoe's Nuidis Vulko, since we already know he's in Justice League.
Working on my birthday

This isn't our first time seeing Aquaman underwater, since he had that brief cameo in Batman v Superman. But it offers a better sense of the way he moves, as well as our first real peek at the underwater kingdom of Atlantis. The guy seated on the throne is really giving off a "Thor, but in the ocean" vibe, but the rich marine life around it gives Atlantis a bit of a different vibe than your typical fantasy kingdom. Mostly, though, I'm relieved to see how graceful Momoa looks. Aquaman's appearance in Batman v Superman was disappointingly clumsy, especially when he had all that long hair floating around in front of his face.

Meanwhile, as Snyder celebrated his birthday by sharing some Aquaman footage, Gal Gadot took the opportunity to post a new photo from the set.

A very happy birthday @cruelfilms #zacksnyder !!!! This photo expresses how focused and centered we were on JL but doesn't show all the good laughs and great fun we had!!! I wish you the best of luck,health and happiness. You are such a special talented man with such a unique cinematic vision. I'm happy I got to know and work with you! Happiest bday to you !!!??????????????????????????????????????????????????????????????

There's nothing really new to see here, but as fans of Wonder Woman we'll take what we can get. Gadot's Wonder Woman is out June 2. Justice League is in theaters November 17.

Fueled by his restored faith in humanity and inspired by Superman's selfless act, Bruce Wayne enlists the help of his newfound ally, Diana Prince, to face an even greater enemy. Together, Batman and Wonder Woman work quickly to find and recruit a team of metahumans to stand against this newly awakened threat. But despite the formation of this unprecedented league of heroes — Batman, Wonder Woman, Aquaman, Cyborg and The Flash -— it may already be too late to save the planet from an assault of catastrophic proportions.