'Pirates Of The Caribbean: Dead Men Tell No Tales' Trailer: Jack Is Back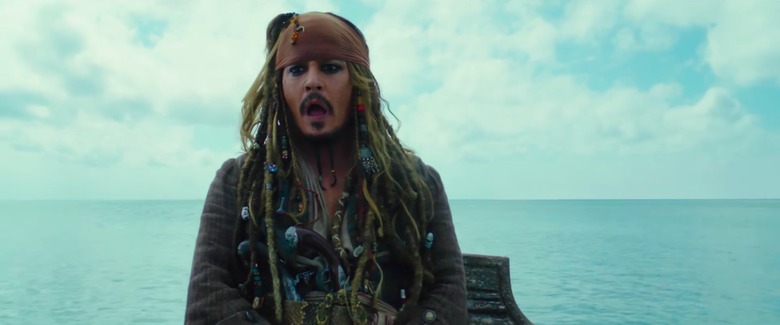 Captain Jack is back. Disney has just unveiled the first full Pirates of the Caribbean: Dead Men Tell No Tales trailer — and unlike the teaser trailer or the Super Bowl spot, which barely showed Johnny Depp at all, there's plenty of him in this one. There's even a younger version of Jack floating around, in case you don't like him in his present state.
This time, he's being pursued by Captain Salazar (Javier Bardem), a royally pissed-off ghost who's out to kill every pirate in the sea. But especially Jack, whom he blames for a tragedy in his past. Fortunately for Jack, he's got some help in the form of two new sidekicks played by Brenton Thwaites and Kaya Scodelario . Watch the Pirates of the Caribbean: Dead Men Tell No Tales trailer below. 
Pirates of the Caribbean: Dead Men Tale No Tales Trailer
Jack's schtick is feeling a little stale these days, I think. That performance was a revelation when we first saw it in 2003, but 14 years and three mediocre sequels later, it's hard to get excited about seeing Depp stumble and sashay around a boat yet again. And Thwaites and Scodelario's dynamic feels like such an obvious rehash of Orlando Bloom and Keira Knightley's from the first three films. It wasn't interesting then and it's not interesting now.
On the other hand, though, Bardem makes for a hell of a villain. He's got a real knack for playing bad guys, and he looks like he's having a lot of fun tearing into the Salazar role here. Plus, it seems we can expect some kickass action from Joachim Rønning and Espen Sandberg, who last directed the seafaring adventure Kon-Tiki.
Pirates of the Caribbean: Dead Men Tell No Tales is in theaters May 26.
Thrust into an all-new adventure, a down-on-his-luck Captain Jack Sparrow finds the winds of ill-fortune blowing even more strongly when deadly ghost pirates led by his old nemesis, the terrifying Captain Salazar (Bardem), escape from the Devil's Triangle, determined to kill every pirate at sea...including him. Captain Jack's only hope of survival lies in seeking out the legendary Trident of Poseidon, a powerful artifact that bestows upon its possessor total control over the seas.