'Beauty And The Beast' Clip: The Beast's Smile Needs Some Work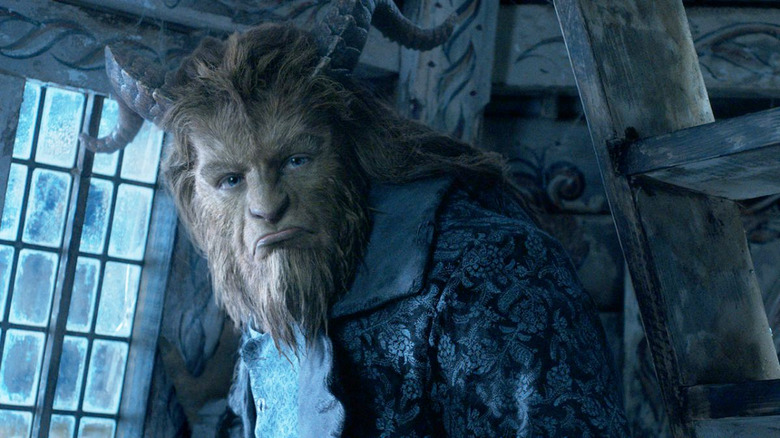 Beauty and the Beast is now only a little bit of two weeks away from an opening weekend that's expected to be huge. We're beginning to see more and more footage from director Bill Condon's musical, meaning we get to see more of the Beast in action, played via motion-capture by Dan Stevens (Legion). A new clip has arrived online showing an awkward and nervous Beast trying to put on his best smile for Belle.
Below, watch a Beauty and the Beast clip.
Except for maybe Alice in Wonderland, Disney has shown little trouble handling CG characters with their reimaginings. Last year's Elliot the Dragon and Baloo were not only remarkable effects but memorable characters. While a few Beauty and the Beast fans were skeptical about the Beast's new look following the first trailer, which had unfinished special effects, we get a better sense of the character and the overall effect in this new clip, courtesy of Yahoo! Movies:
Others' reactions may vary, but the Beast appears believable in this moment. The joke works at the end partially because the CG is convincing enough, and also because Ewan McGregor sounds very charming as Lumiere the candelabra. It's another promising look at the film, which was actually co-written by Emma Watson's Perks of Being a Wallflower director, Stephen Chbosky, who has another movie coming out later this year.
Starring alongside Watson and Stevens in Beauty and the Beast, which features some original songs by Alan Menken, are Kevin Kline (Maurice), Luke Evans (Gaston), Josh Gad (Lefou), Ian McKellen (Cogsworth the clock), Emma Thompson (Mrs. Potts the teapot), Gugu Mbatha-Raw (Plumette the feather duster), Stanley Tucci (Maestro Cadenza), and Tony winner Audra McDonald (Madame De Garderobe).
Here's the official synopsis:
Disney's "Beauty and the Beast" is a live-action adaptation of the studio's animated classic which refashions the classic characters from the tale as old as time for a contemporary audience, staying true to the original music while updating the score with several new songs. "Beauty and the Beast" is the fantastic journey of Belle, a bright, beautiful and independent young woman who is taken prisoner by a beast in his castle. Despite her fears, she befriends the castle's enchanted staff and learns to look beyond the Beast's hideous exterior and realize the kind heart and soul of the true Prince within.
Beauty and the Beast opens in theaters on March 17th.