YouTubeTV Announced: How Is This Live TV Streaming Service Different From The Rest?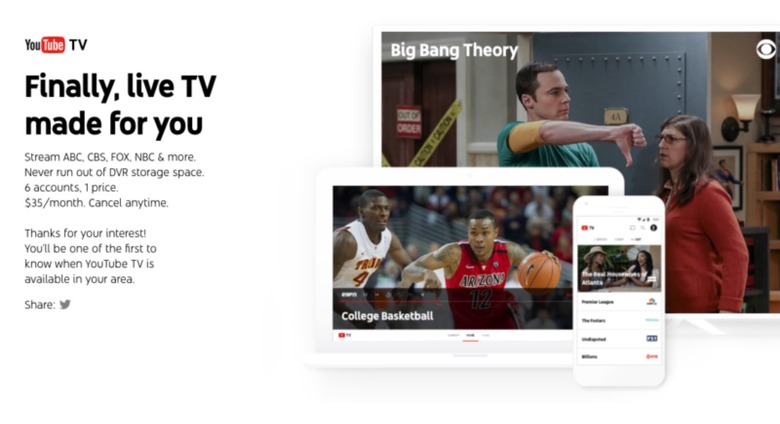 The cable companies should be scared because the cut the cord movement is just beginning. Joining the fray of cord-cutting options in YouTubeTV, a streaming television service in the same vein as Dish Network's Sling TV, Sony's PlayStation Vue, AT&T's DirecTV Now and Hulu's upcoming live-tv service. But what will YouTubeTV bring to the mix that none of the others are? Let's find out.
The announcement for YouTubeTV includes the following pitch:
There's no question that people love TV, from live sports to breaking news to sitcoms and dramas. But the truth is, there are a lot of limitations in how to watch TV today. Unlike online video, people can't watch TV when they want, on any screen and on their terms, without commitments. Consumers have made it clear that they want live TV without all the hassle. They don't want to worry about their DVR filling up. They don't want to miss a great game or their favorite show because they're on the go. They tell us they want TV to be more like YouTube. Well, we've got some good news! We're bringing the best of the YouTube experience to live TV. To do this, we've worked closely with our network and affiliate partners to evolve TV for the way we watch today. Meet YouTube TV. It's live TV designed for the YouTube generation—those who want to watch what they want, when they want, how they want, without commitments.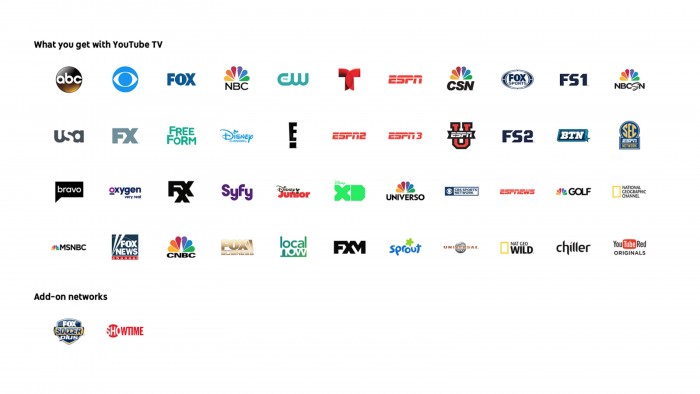 Sounds pretty much like Vue, Sling, and DirecTV Now to me. Here is what YouTubeTV will offer:
Live television content from more than 40 TV networks — including all four of the major broadcast networks as well as some cable channels — for a monthly fee of $35. This includes ABC, CBS, FOX, NBC, ESPN, regional sports networks and dozens of popular cable networks.
You can also add Showtime or Fox Soccer Plus to your networks for an additional charge.
A cloud DVR, with no storage limits. With YouTube TV, you'll be able to record live TV and never run out of storage. Your cloud DVR can record as many shows as you want, simultaneously, without using precious data or space on your phone and we'll store each of your recordings for nine months.
YouTubeTV will work great on all your screens, mobile, tablet, computer or television. And your cloud DVR goes with you, so you can stream your recordings on any device, whenever and wherever you want.
With a YouTube TV membership, you can watch all of our YouTube Red Original series and movies.
Every YouTube TV membership comes with six accounts, each with its own unique recommendations and personal DVR with no storage limits. You can watch up to three concurrent streams at a time.
YouTube is touting that their service will cost "half the cost of cable with zero commitments."
Of course, compared to the other options in the market place, YouTubeTV seems to offer fewer channels and upgrade options. Most of the other services offer apps that are available across all the same platforms. The only thing that appears to be different from the rest of the pack is the ability to that a no limit storage cloud DVR. But many of the channels I watch are not included in this cord-cutting option, which makes it not for me. I have recently made the jump from cable to cord-cutter, something I never thought I would do. I'll be writing about that sometime next week on the site.
I can see this service working for a real minimalist that doesn't already have a list of DVR'd series on their cable box. Unless YouTube expands their channel offerings, I can't see heavy television viewers jumping to YouTubeTV.
YouTube Red features very little original content I care about — that said, I subscribe to skip commercials on all YouTube videos. If this service offers free YouTube Red subscription, that's a $10 savings.