'La La Land' Set Recreated On The Warner Bros Studio Tour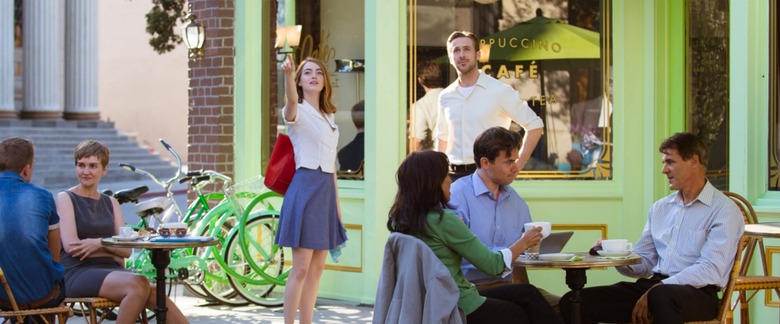 The Warner Bros. Studio Tour Hollywood will be reconstructing a set from Lionsgate's Oscar-nominated film La La Land, allowing moviegoers to step inside the movie. Learn more about the La La Land set, after the jump.
notre rédacteur US participe aux studios @WarnerBrosEnt a un @wbtourhollywood mettant en avant le fameux Café Sur Le Lot de @LaLaLand pic.twitter.com/RUKaUvlNdQ

— Mulderville (@mulderville) February 23, 2017
As you can presume from the title, La La Land was shot in and around Hollywood, California. One of the locations was constructed on the Warner Bros backlot. Emma Stone's character Mia worked as a barista at the Café Sur Le Lot, a coffee shop situated on one of Hollywood's iconic movie studio lots. Of course, no such coffee shop exists in the back lot of any of the major studios. Most of the big studio lot have cafeterias or commissaries, with craft services located on the soundstages of most productions.
Warner Bros has reconstructed the set from the Oscar-nominated movie in the original filming location on their legendary back lot, and for a limited time, guests will be able to visit the set as part of the Warner Bros. Studio Tour. Café Sur Le Lot will be part of the Warner Bros Studio tour from February 20 through March 6, 2017. Honestly, if it weren't a working backlot used by many productions, I would say that Warner Bros would be smart to turn the location into a real coffee shop and use it as a permanent edition to their Studio Tour.
A bit of trivia: The Café Sur Le Lot facade is located across the street from a window used in Casablanca, which inspired La La Land director Damien Chazelle to add dialogue in which Mia talks about the classic 1942 film.
For those of you who have never been, the Warner Bros. Studio Tour is one of my most favorite places to take people visiting Los Angeles. While the Universal Studios studio tour has the courthouse square from Back to the Future and the plane crash set from War of the Worlds, most of the experience has been overtaken by theme park experiences. The Warner Bros studio tour forgoes the rides and gives movie lovers a more intimate tour through film history, highlighting the many locations that have been used by famous movies, and more recently, by mostly network television productions.
The Warner Bros. Studio Tour is open Monday through Sunday from 9:00 a.m. to 3:00 p.m. PT. Standard tickets cost $62 a piece.