Bigger CW Crossover Expected For DC Shows Next Season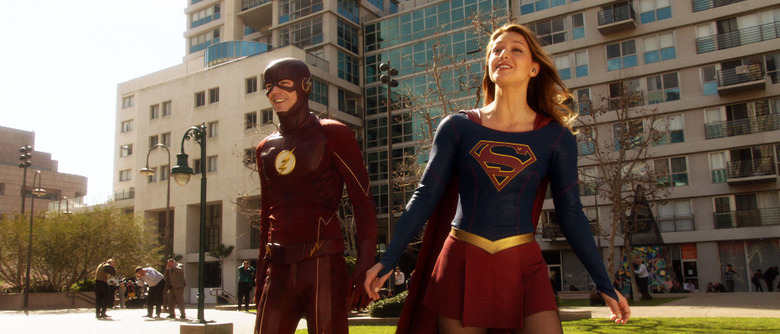 Last year there was a crossover between Legends of Tomorrow, Supergirl, The Flash, and Arrow. The crossover event, titled "Invasion!", began with Supergirl and ended with Legends of Tomorrow, with The Flash and Arrow nice and comfy around the middle. The heroes teamed up to defeat the Dominators, but little of the action was featured in Supergirl, so it wasn't the huge four-way crossover some fans were anticipating.
Below, learn why you should expect a bigger CW crossover next time.
Andrew Kreisberg, a writer and executive producer on all four shows listed above, told Entertainment Weekly he's hopeful the next crossover will feature Supergirl more prominently:
Next year, we're hoping to do a true four-way crossover. The great thing about our dear friends at the CW and Mark Pedowitz picking the shows up as early as they did has allowed us to start building the schedules for next season.
Kreisberg went on to explain why the former CBS project wasn't as integral to the crossover as it could've been:
The thing that we didn't really plan on — because we weren't aware that we were going to switch Supergirl from CBS to CW and it was really going to be part of it — that was the one show that didn't have built-in shut-down days, so all the other ones did. Melissa [Benoist] ended up being heavily in Flash and then in Arrow, so Supergirl was the one we needed to shut down the most and it was the one that we didn't have any opportunity to. Now that we've gotten the early pickup and we've started designing the seasons, we're building in those dark days, and actually more dark days on Supergirl than the other shows, to make it a little easier.
The producer added scheduling is the greatest challenge when it comes to pulling off these crossovers:
One of the big things we learned from two years ago, which made the crossovers this year slightly easier, was building in shut-down days, where shows just went dark. The single hardest factor in doing the crossovers is actors' availability because the shows keep going on. You're basically juggling four shows worth of schedules.
The DC crossover was a real hit for The CW last time. All four shows had their most-watched episodes during the week-long event; it started with 2.36 million viewers tuning in to watch all the DC heroes team up. The most recent crossover turned out to be The CW's most popular week of television in over six years. If The CW wants to make it even more popular next time, clearly they need to make some room for Archie Anders and his friends from Riverdale.