'Beauty And The Beast' On Track To Make $120M Opening Weekend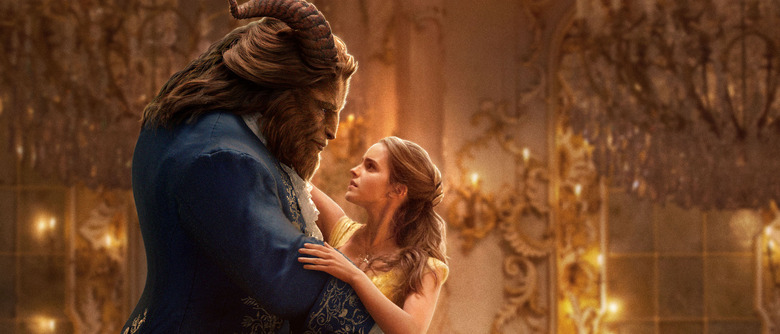 Disney's new version of Beauty and the Beast is on track to make a lot of dough. Shocking, I know. Tracking indicates Bill Condon's (Gods and Monsters) musical is going to make $120 million its opening weekend, but Disney is more conservative with their estimate.
Below, learn more about the damage Beauty and the Beast is expected to cause at the box-office.
According to The Hollywood Reporter, those who've seen the pre-release surveys peg the movie opening at $120 million in the States. The trade's insiders at Disney believe it'll open to over $100 million. They're more cautious with their figure since tracking hasn't been consistent lately.
The current record holder for the month of March is last year's Batman v Superman: Dawn of Justice, which made $166.1 million during its first weekend at the box office. In second place, there's The Hunger Games ($152.5 million), followed by Alice in Wonderland ($116.1 million) in third. Disney's last reimagining, Pete's Dragon, didn't make Alice in Wonderland or Jungle Book money, but it was also a different type of movie. It was a less expensive film, for starters, and based on a far less popular title. Beauty and the Beast, on the other hand, is Beauty and the Beast. The title alone sells quite a few tickets. Deadline is already hearing Condon's film has the "advance sales-intensity normally seen on superhero tentpoles."
A few of Disney's reimaginings have surpassed box-office expectations. While Jon Favreau's The Jungle Book was on track to make $67M to $75M, it opened to $103M. Kenneth Branagh's Cinderella? Estimated to make $50M-$60M but it soared a little higher than expected with $67M, before going on to make well over $500M worldwide. Oz The Great and Powerful and Maleficent opened with the numbers tracking indicated, but Disney's reimaginations have proven to exceed expectations. We'll see if Beauty and the Beast can do the same soon enough.
Here's the synopsis for Beauty and the Beast:
The story and characters audiences know and love come to spectacular life in the live-action adaptation of Disney's animated classic "Beauty and the Beast," a stunning, cinematic event celebrating one of the most beloved tales ever told. "Beauty and the Beast" is the fantastic journey of Belle, a bright, beautiful and independent young woman who is taken prisoner by a Beast in his castle. Despite her fears, she befriends the castle's enchanted staff and learns to look beyond the Beast's hideous exterior and realize the kind heart of the true Prince within.
Beauty and the Beast opens in theaters March 17th.