'Sense8' Season 2 Images: More Drama, More Action, More Mind-Bending Psychic Stuff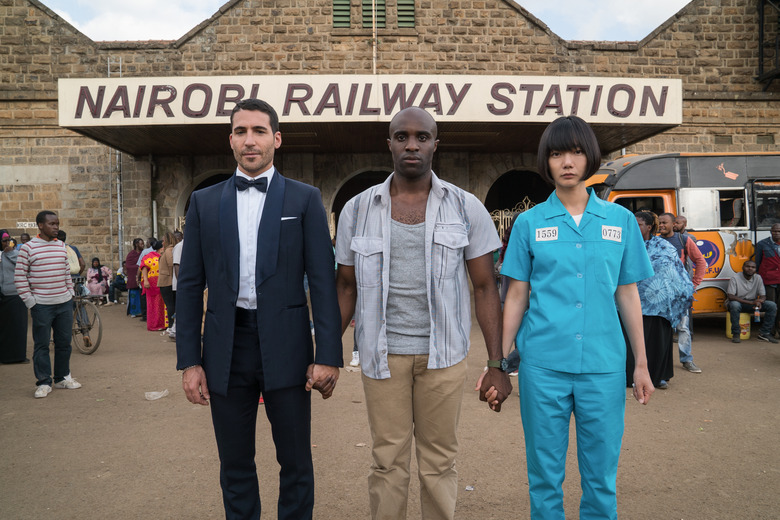 With apologies to my loved ones, the best Christmas gift I got last year was the Sense8 holiday special. It had been over a year since the first season hit Netflix, and the two-hour extravaganza had everything I'd hoped for from the return — drama, action, romance, tons of earnest metaphysical nonsense, and, yes, even a meticulously choreographed orgy. Best of all, it heralded the arrival of even more episodes to come in the new year, with Sense8 season 2 scheduled to hit in May.
Of course, May's still a ways away. But Netflix isn't leaving us completely high and dry. They've just dropped a big batch of Sense8 season 2 images, teasing more good times, more bad times, and lots of sweet cluster meetings that are probably going to make me cry. Flip through the new photos below.
Sense8 Season 2 Images
It's tough to glean much from these photos, but it looks like Lito will continue dealing with the fallout of his outing and Sun will continue her stint in jail, while Riley will spend a lot of time standing around outside in the same brown sweater. I'm really looking forward to the episode shot at São Paulo Pride last summer — the celebration looks like a nice respite from the heavy drama that's usually coming our sensates.
The new season of Sense8 brings back Tina Desai as Kala, Miguel Ángel Silvestre as Lito, Jamie Clayton as Nomi, Tuppence Middleton as Riley, Brian J. Smith as Will, and Max Riemelt as Wolfgang, with Toby Onwumere replacing Aml Ameen as Capheus. ("New barber," says Capheus by way of explanation after one character points out he's looking different these days.) Lana Wachowski and J. Michael Straczynski are back as writers and producers, although co-creator Lilly Wachowski is sitting out this season.
Sense8 returns for season 2 on May 5. Here's the synopsis:
Picking up where season one left off, Capheus, Kala, Lito, Nomi, Riley, Sun, Will and Wolfgang come together both physically and mentally, plunged into the middle of each other's tragedies and triumphs. On the run from Whispers, and forced to question their very identity, it's a matter of survival as the Sensates must find a way to live with, understand and protect one another against all odds.