Shane Black's 'Predator' Casts 'Game Of Thrones' Star Alfie Allen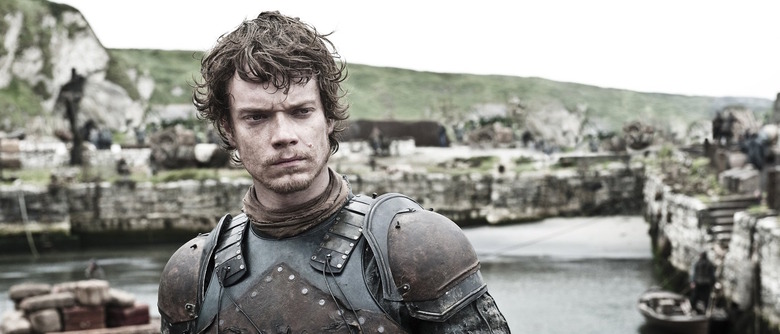 Today's turning out to be a big day for Game of Thrones alums. First the Mother of Dragons herself, Emilia Clarke, was spotted in the first official cast photo from the Han Solo movie, and then Ramsay Bolton, a.k.a. Iwan Rheon, was announced as one of the leads in Marvel's Inhumans TV series. Not to be outdone, Ramsay's former victim Reek — that is, Alfie Allen — has also just scored a splashy new gig. He'll be going up against the Predator in Shane Black's sequel to the 1987 classic. 
The Hollywood Reporter broke news of the Predator Alfie Allen casting one day after Black shared the first photo of his cast. Just squint and try to imagine Allen standing off on the side next to Sterling K. Brown or something.
Partial cast... beautiful human beings, good people. Also, killers. Cameras roll today. Follow me on Twitter for updates. Wish us luck. pic.twitter.com/vYGgGesW0Y

— Shane Black (@BonafideBlack) February 20, 2017


Boyd Holbrook, who'll be seen next weekend in Logan, leads the cast as an ex-Marine. Moonlight breakout Trevante Rhodes plays another ex-Marine and Holbrook's best friend. Allen will play yet another ex-Marine. Olivia Munn is a scientist, and Brown is a government agent who first butt heads with Holbrook's character, but later needs his help when the Predator comes around. Last but most definitely not least is Room's Jacob Tremblay as Holbrook's son, an autistic kid whose knack for learning languages comes in really handy. Thomas Jane is also in the movie in an undisclosed role.
Allen is best known for playing Theon Greyjoy in Game of Thrones, and is expected to return for the seventh season, which he claims is "definitely going to blow a lot of people's minds." He also had a supporting role in the first John Wick as the idiot rich kid who, by killing John Wick's dog, set that whole bloody affair in motion. Based on his past roles — and the fact that he doesn't seem to be one of the main characters — I'm going to guess he'll be the tough and arrogant character who dies early in the movie. You know, to prove to the audience that no one is safe. But that's just speculation. I welcome any surprises or subversions that Black wants to throw our way.
Shooting on The Predator began this week in Vancouver for release on February 9, 2018.