'Han Solo' Movie Photo: The Cast Takes Flight On The Millennium Falcon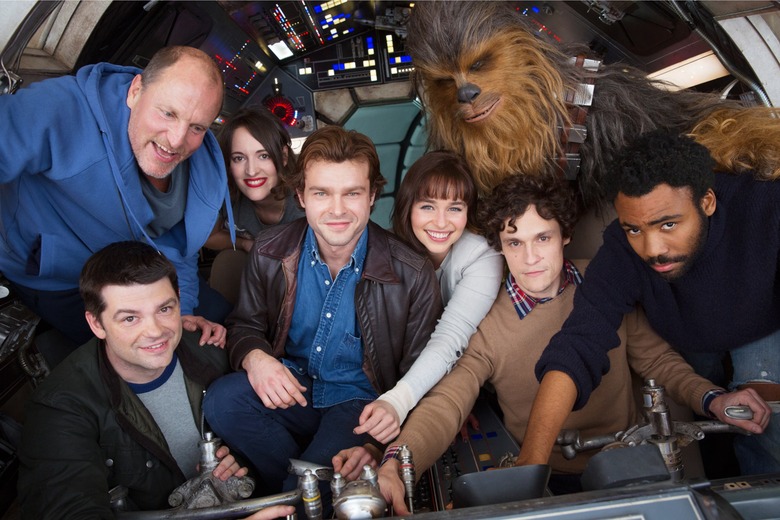 Disney and Lucasfilm have released the first photo of the cast of their upcoming Star Wars stand-alone movie starring a young Han Solo, celebrating the start of filming on February 20th, 2017 at Pinewood Studios in London. Hit the jump to see the first Han Solo movie photo, which features the cast on board the Millennium Falcon, ready to take off and begin filming this epic adventure.
The photo features: Woody Harrelson who is playing Han's criminal mentor, directors Phil Lord and Christopher Miller, Alden Ehrenreich, who is playing Han Solo, Emilia Clarke, who is playing an unknown female role (originally thought to be a love interest), Donald Glover, who is playing the iconic role of Lando Calrissian, Phoebe Waller-Bridge (who last week jokingly denied being in the film), who is reportedly playing the first significant female droid in Star Wars history, and Joonas Suotamo, who was credited as Peter Mayhew's double for Star Wars: The Force Awakens, is under that furry suit as Chewbacca. Thandie Newton, who also stars in the film is not pictured here. Lord and Miller released the following statement:
"Watching such inspired people from all over the world, with such unique voices, come together for the sole purpose of making art, is nothing short of miraculous. We can't think of anything funny to say, because we just feel really moved, and really lucky."
Alongside the production start announcement, Disney has confirmed many of the crew that will help bring the movie to life:
Crewing the ship will be some of the industry's top talent, including Academy Award nominee for his work on Arrival, Bradford Young (Director of Photography), Chris Dickens (Editor), Dominic Tuohy (SFX Supervisor), Rob Bredow (VFX Supervisor) and Brad Allan (Action Designer). They will be joining returning Star Wars veteran crew members Neal Scanlan (Creature & Droid FX Creative Supervisor), Neil Lamont (Production Designer), Dave Crossman and Glyn Dillon (Co-Costume Designers), Jamie Wilkinson (Prop Master), Lisa Tomblin (Hair), Amanda Knight (Make-Up) and Nina Gold (UK Casting Director).
The screenplay was written by Lawrence Kasdan and Jon Kasdan, with Kathleen Kennedy, Allison Shearmur, Simon Emanuel producing. Kiri Hart, Susan Towner, and Will Allegra are credited as co-producers, while Lawrence Kasdan and Jason McGatlin will executive produce.
The untitled Han Solo Star Wars Story is slated for release on May 25th, 2018, debunking the rumors that the film was moving to December.