'Rick And Morty' Season 3 Celebrates The Start Of Production By Expertly Trolling Fans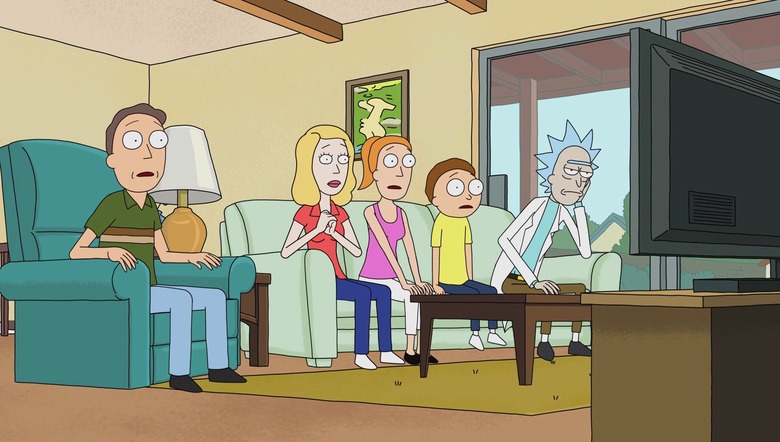 It's been a full 16 months since the last episode of Rick and Morty, and as of now we still don't know when we'll see the show again. There were some optimistic rumblings that season 3 could premiere by the end of 2016, but that garbage year has already come and gone. On the bright side, though, a 2017 premiere date is looking more and more realistic.
Rick and Morty season 3 has officially entered production, and it's celebrating by trolling fans. A new video has gone up promising the opening scene. What it actually is is... something else. Watch it below. 
Rick and Morty Season 3
Yep, you've been Rickrolled. This is bound to annoy the hell out of some fans who thought they'd get to see some real new footage from Rick and Morty season 3, but it's also very Rick. Of course this guy would promise something you've been waiting for for months... and then use it as an opportunity to prank you while he cackles to himself in the background. (Morty would probably try to actually deliver new Rick and Morty season 3 footage and then wind up almost destroying himself or the universe as an unintended result.)
While the Rick and Morty video above is just Adult Swim Australia trolling fans, there is actual forward movement on the next run of episodes. Writer Mike McMahan shared a photo of the season 3 premiere script.
Hey @RickandMorty am I allowed to say we're recording episode 301 today? pic.twitter.com/6p7DH1d00G

— Mike McMahan (@MikeMcMahanTM) February 18, 2016
Rick and Morty co-creator Dan Harmon has taken the blame for the long gap between seasons 2 and 3. "It's late because of us, it's late because of me," he said last month. "Rick and Morty keeps taking longer and longer to write, and I don't know why." Though he seems to think the issue might be his relationship with co-creator Justin Roiland. "We have fights all the time and then we have fights about why we're having fights," said Harmon. "Well, we didn't fight during Season 2, that's why it's taking longer: all this fighting! So okay, let's stop fighting."
But apparently they have been getting work done in between all those fights. In December, we got a small sneak peek at Rick and Morty season 3 thanks to an Adult Swim development meeting that was streamed live. So just hang tight. New Rick and Morty is coming eventually, even if we're not sure when yet.