'Van Helsing' Co-Writer Eric Heisserer Went For Real Scares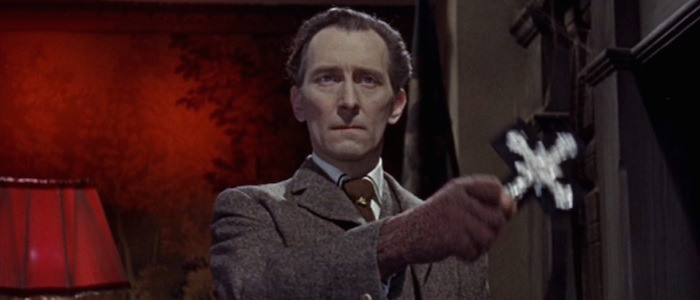 Universal's last Van Helsing movie didn't do any favors for the monster hunter's name, but the stench of that misfire is now long gone. While director Stephen Sommers made Helsing's world largely ridiculous and low on scares, screenwriters Jon Spaihts (Passengers) and Eric Heisserer (Arrival) are interested in grounding the character. As Heisserer recently put it, he wants to make Van Helsing someone with no extraordinary powers saving the day in a story that's "as scary as possible."
Below, read what else the Academy Award nominated screenwriter had to say about the new Van Helsing movie.
Heisserer is a part of Universal's writers room for their monster movie universe, which also includes Noah Hawley (Fargo), Aaron Guzikowski (Prisoners), and Ed Solomon (Now You See Me). They're all working on Frankenstein, The Wolf Man, The Invisible Man, and more. Some of those movies have release dates, while Van Helsing does not, although we can expect to see the character pop up in other monster-related adventures.
In the past, Heisserer has said the tone of these films will vary. "One may be a little bit more comedic, action-adventure-y, one can be very much a traditional horror piece," he said. The screenwriter recently told Collider he wanted to go for real scares with Van Helsing, but he did start with a caveat:
I don't know what it's going to look like at the end of the process, so I'm gonna withhold on commenting on really where it lands. I can say that my intent stepping in was to make it as scary as possible, partly because I know how to do that, and also because when you're the only human surrounded by a bunch of supernatural creatures, that's gotta be absolutely unnerving.
Another goal the screenwriter has for the film? He wants a character without extraordinary, gravity-defying abilities capable of saving the day:
I can talk about my emotional state of what I've been passionate about or sometimes frustrated by are the number of films where we find an extraordinary character with superhuman abilities that becomes a hero to solve a problem that a normal person cannot solve. And I was eager to try and buck that trend and showcase someone who had no extraordinary powers, just resourcefulness and will and kind of a stubbornness who's able to tackle some of these bigger problems. Because I don't like the idea that we're infusing our public and our pop culture with the idea that only super people can solve the world's problems. I like the idea of the everyday hero stepping up to the plate and getting things fixed.
We could always use more characters overcoming their obstacles through resourcefulness, not by only beating their opponent to a pulp, so that last quote is encouraging. Heisserer once said the new take on Van Helsing was inspired by Mad Max's behavior, which doesn't sound too different from how the co-writer is now describing the character.
Universal hopes to launch the Universal Monster Universe with The Mummy, opening in theaters March 24th, 2017.