'Mine' Trailer: Armie Hammer Must Survive The Next 52 Hours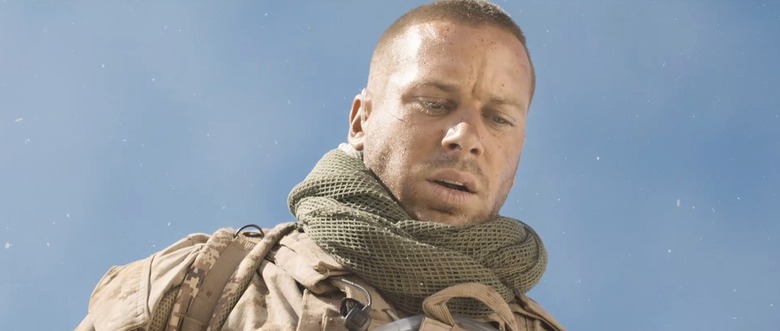 Armie Hammer is almost performing a one-man show in Mine. The Man from U.N.CL.E. star isn't alone in Fabio Guaglione and Fabio Resinaro's thriller, but he spends much of it on his own in the frame, with one foot resting not-so-comfortably on a landmine in the desert. To stay alive, he'll have to survive the next 52 hours by staying in one place.
Below, watch the Mine trailer.
Hammer plays a U.S. soldier who hesitates when he's supposed to pull the trigger. His and his partner's (Tom Cullen) mission goes to hell, forcing them to go on the run. The problem: it's a little difficult to run away in a desert with 33 million landmines ready to go off. From Peter Safran, the producer of Buried, comes a movie that doesn't look unlike Buried.
Here's the trailer for Mine, which co-stars Tom Cullen (Weekend) and Annabelle Wallis (The Mummy):
There are a few movies this trailer calls to mind. Only a month before Mine opens in theaters, we'll see Doug Liman's The Wall, which is about two soldiers (Aaron Taylor-Johnson and John Cena) pinned down in one location. That's more of a two-hander than Mine, but there are some obvious similarities between the two, at least based on the trailers.
A lot of Mine rests on Hammer's shoulders. These kind of roles are likely challenging and a huge responsibility, but we'll see if Hammer is up to the challenge. He's a good, charismatic actor who's worked with some material that hasn't always matched his talents. He's starred in a few misfires over the past few years, but he's lately been landing some good jobs. We recently saw him in Tom Ford's Nocturnal Animals and he's got Ben Wheatley's Free Fire and Luca Guadagnino's Call Me by Your Name coming up. Angie gave Guadagnino's film a rare 10 out of 10 at Sundance, writing that Hammer's performance is "enchanting."
Here's the official synopsis:
This action-packed military thriller stars Armie Hammer (FREE FIRE, THE MAN FROM U.N.C.L.E.) as a U.S. soldier who, stranded in the desert for 52 hours after a mission falls apart, must fight for survival against his enemies, the hostile environment, and the creeping psychological toll of his treacherous situation. Annabelle Wallis (ANNABELLE, THE MUMMY) and Tom Cullen (WEEKEND) co-star in this tense, explosive film from the producer of BURIED and THE CONJURING.
Mine opens in theaters and On Demand on April 7th.