'The Fate Of The Furious': Who Is Helen Mirren Playing?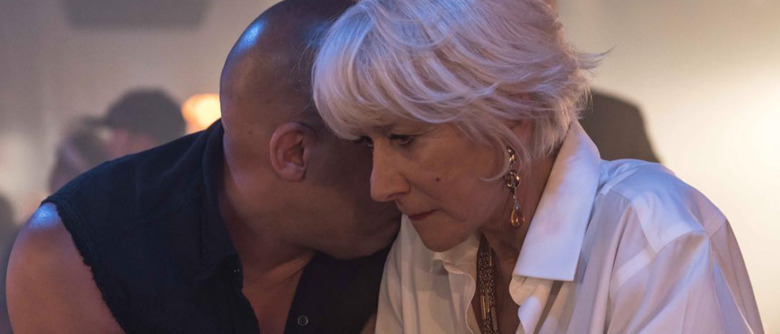 This spring, we'll watch as Helen Mirren achieves her greatest ambition – to be in a Fast and Furious movie. The Oscar-winning screen legend clinched a role in The Fate of the Furious after publicly praising the action franchise, and today we finally have a better idea of what she'll actually be doing in the movie. Learn more about the Fate of the Furious Helen Mirren character below. 
The big reveal comes via Luke Evans, who played the villainous Owen Shaw in Furious 6. His character ended that film (spoiler alert) in a coma, and has not officially been confirmed to resurface in The Fate of the Furious or anywhere else. Unofficially, though, Evans isn't ruling out a return. "People come around from comas, so who knows?" he teased in an interview with Yahoo. Besides, he added, Owen's got his own family to deal with:
He's in a military hospital because he's the most wanted man in the world, but he's got a very powerful brother, and he's now got a mum as well, who's played by Helen Mirren.
So there you have it: Mirren is playing the mother of Owen Shaw and Deckard Shaw (Jason Statham). It seems all too appropriate in a film franchise that's all about family. And it makes perfect sense that two villains as tough as Owen and Deckard would have a mother as formidable as Helen Mirren.
Still unclear is how exactly Mama Shaw will fit into the story, which, based on the trailers, sees Deckard forming an unlikely alliance with Luke (Dwayne Johnson) and Dom's family after Dom (Vin Diesel) sells them all out for Cipher (Charlize Theron). It appears she'll cross paths with Dom at some point, but sadly it seems she won't get behind the wheel. "I wanted to be driving, but unfortunately, I'm not," she said last summer. "Maybe that will come in the future, in Fast and Furious 12."
Here's hoping, because according to Mirren herself, she is a damn good driver. "My claim to fame is I always do my own driving," she bragged in 2015. "I was on Top Gear, and I did [my lap] in a very good time."
The Fate of the Furious rides into theaters April 14.