Edward James Olmos To Co-Star In 'Sons Of Anarchy' Spinoff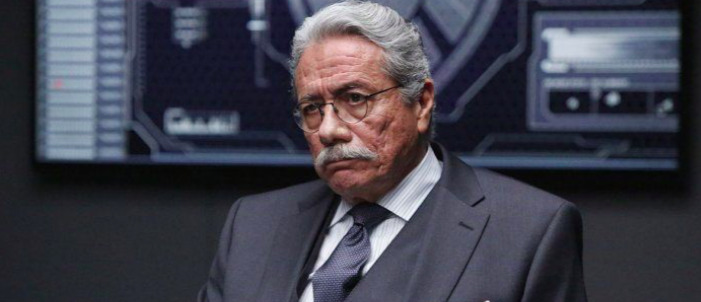 Next month, Kurt Sutter will direct the pilot for the Sons of Anarchy spinoff, Mayans MC (a working title). Sutter was interested in pursuing a prequel and a spinoff, but the latter became a reality first. Sutter's latest FX drama, which Elgin James (Little Birds) is the showrunner of, follows the SAMCRO's rival gang, Mayans. Edward James Olmos, known for Battlestar Galactica, Blade Runner, and more, will co-star as the father of a prospect in the Mayans MC charter.
Below, learn more about the Sons of Anarchy spinoff.
The young prospect is EZ Reyes, a role not yet cast. In the series, the character is out for vengeance against a local cartel. EZ Reyes doesn't live in Northern California; he's close to the California/Mexico border. According to Deadline, Olmos is playing the potential gang member's father, Felipe Reyes, who tries to lead "his sons down a lawful, righteous path." The once strong Mexican patriarch has been through some hard, violent times. With the pilot shooting in March, we'll hear more casting news soon, but we do know the Mayans' leader featured in Sons of Anarchy, Marcus Alvarez (Emilio Rivera), is coming back.
Fans likely shouldn't expect a cameo from Jax (Charlie Hunnam) from this series, but never say never. Sutter has said Mayans MC would have some crossovers, which makes sense considering how much SAMCRO and the Mayans bump into each other. The two gangs later came to a truce in one of the seven seasons of Sons of Anarchy. Sutter described the spinoff to Deadline as a very different show:
This is cool because I love the genre and the subculture. It's a fun way to dip my toe in that world without risking anything. If it doesn't work, I don't feel like I've shit on what I've already created. If it does work, it exists on its own because it would be a very different show. The world elements would be similar but the subculture and the influence of Spanish culture creates a different energy. Whoever I hire to write that show is going to know the culture. I wouldn't necessarily even feel comfortable running a show like that, being a white guy from New Jersey. I really want to bring somebody I can guide with what I know, letting them put their life, family and cultural experience to add layers that I can't provide.
Sutter hired co-writer and co-executive producer Elgin James to handle the job of running the big show. James, who was once sentenced to spend a year in jail for extortion, was a part of the Sundance Screenwriters Lab and made his directorial debut with Little Birds, a movie starring Juno Temple, Leslie Mann, and Kate Bosworth. With Sutter, James co-created Mayans MC, which is a contemporary story, not a prequel.