Robert Downey Jr. And Richard Linklater Team Up For Con Man Tale Based On 'Reply All' Podcast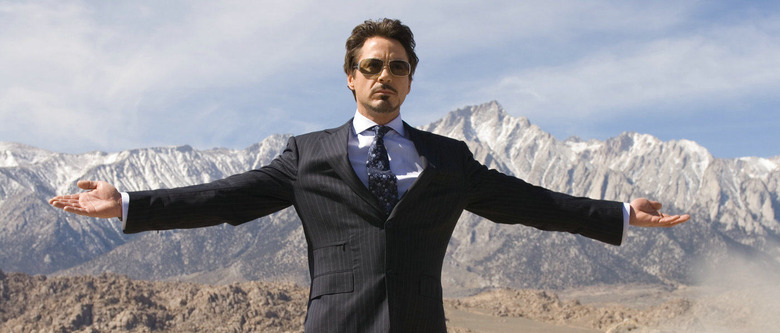 Robert Downey Jr.'s got a lot of Iron Man coming up on his to-do list, but his next new role's got nothing to do with Marvel at all. He'll be teaming with director Richard Linklater for an adaptation of the Reply All podcast, specifically the episode titled "Man of the People." The fact-based tale centers on an early 20th century con man, which sounds like a perfect fit for both Downey and Linklater.
Get all the details on the Robert Downey Jr Richard Linklater project below.
Megan Ellison's Annapurna Pictures is producing the as-yet-untitled picture, and announced it via press release this week. Linklater will direct and Downey is attached to star. Here's how they describe it:
The podcast tells the true story of charlatan Dr. John Brinkley who scams his way to fame and fortune using fake medicine, populism, and the newest technology of the time: radio. As Brinkley's fame grows, he gets the attention of Dr. Morris Fishbein, editor of the AMA who begins a decade long quest to take him down. REPLY ALL, a show that features stories about how people shape technology, and how technology shapes people, aired "Man of the People" on January 19, 2017.
Brinkley's story is much more interesting than that dry description makes it sound. Despite having no medical education, he promoted a procedure of transplanting goat testicles(!) into humans(!!) to cure impotence(!!!) and other ills. He gained fame and fortune even as detractors within the medical community repeatedly discredited him. After he was finally brought down, he ran for governor of Kansas — twice. He lost both times, which is probably for the best.
Downey seems like perfect casting to play an ambitious and successful con man. While Tony Stark isn't a fraud, he's definitely got the gift of gab and the kind of irresistible charisma that wins over people who should know better. (Like, say, other superheroes. But that's another discussion.) It should be fun to see him channel that magnetism into a different, and presumably darker, kind of role. As for Linklater, this seems to put him in similar territory as Bernie, another all-American true-life tale about a seeming success story that wasn't quite what it seemed.
In addition to starring, Downey will produce with his wife Susan Downey through Team Downey. Linklater will co-produce, as will PJ Vogt, Tim Howard, and Chris Giliberti of Gimlet Media (home of the Reply All podcast).