Watch Actors Improv The 'Doctor Strange' End Credits Scene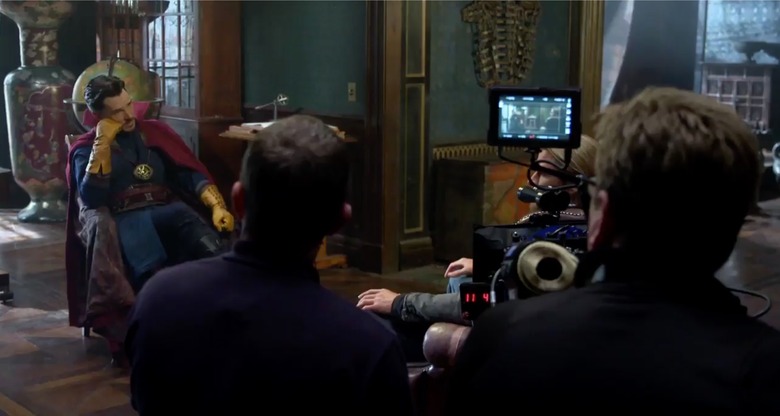 Disney has been releasing clips of some of the bonus features in promotion for the home video release of Doctor Strange. They've released deleted scenes, a gag reel and now we can finally see some behind the scenes footage of the filming of the Doctor Strange end credits scene. The featurette, which shows Benedict Cumberbatch as Doctor Strange, alongside another Marvel hero, improving a scene for the end credits tag. Watch the Doctor Strange end credits featurette now after the jump.
Doctor Strange End Credits Featurette
God of Thunder meets Sorcerer Supreme. Bring home #DoctorStrange tomorrow on Digital HD. pic.twitter.com/OLcc7Z2w0B

— Chris Hemsworth (@chrishemsworth) February 13, 2017
As Doctor Strange executive producer Stephen Broussard explains, Marvel often doesn't script out their end credits tags before production. Sometimes it's scripted beforehand, like the tags on the upcoming Guardians of the Galaxy Vol. 2. Other times, the end credits scene comes out of some joke the filmmakers come up with while shooting the film.
The Doctor Strange end tag apparently came about as production of Thor: Ragnarok heated up. The video above shows some great footage of Chris Hemsworth and Benedict Cumberbatch improving the scene with each other. I wish Marvel would release an extended clip of some of this footage.
Marvel's Doctor Strange arrives on Digital HD and Disney Movies Anywhere starting tomorrow, February 14th, 2017, and then will be released on DVD and Blu-ray two weeks later on February 28th, 2017.